As students, we are all aware of how useful the PDF format is. Because it is a portable and reliable format, many students and professors now prefer it. If so, have you ever run into issues while utilizing PDF tools? You may have attempted to convert a PDF file to Word, Excel, or PowerPoint only to discover that the formatting was lost in the conversion, or that you needed to pay high subscription fees for the PDF tool. Perhaps you've had trouble annotating and commenting on a PDF file. I believe these are common problems faced by students and professionals alike. Fortunately, you might get help from PDF software with powerful features.
The free online PDF tool ONEPDF has a number of capabilities that can address all of your PDF-related problems. Let's examine some of the distinguishing qualities of ONEPDF in more detail.
Powerful Conversion and Annotation
As a student, you might find yourself frequently converting documents from one format to another, such as PDF to Word, Excel, PowerPoint, and so on. ONEPDF's ace in the hole is its ability to convert files at no cost. Converting documents from PDF to Word, Excel, PowerPoint, and other formats is a breeze using ONEPDF. In addition, ONEPDF guarantees a one-to-one conversion from your original format. You can know more information about the conversion of ONEPDF through the links below.
In addition to its ability to transform documents, ONEPDF also has a wide array of annotation features for enhancing the reading experience. Each student and professor can find the note-taking tools they require, from highlighting and underlining to freehand notations and adding rectangles.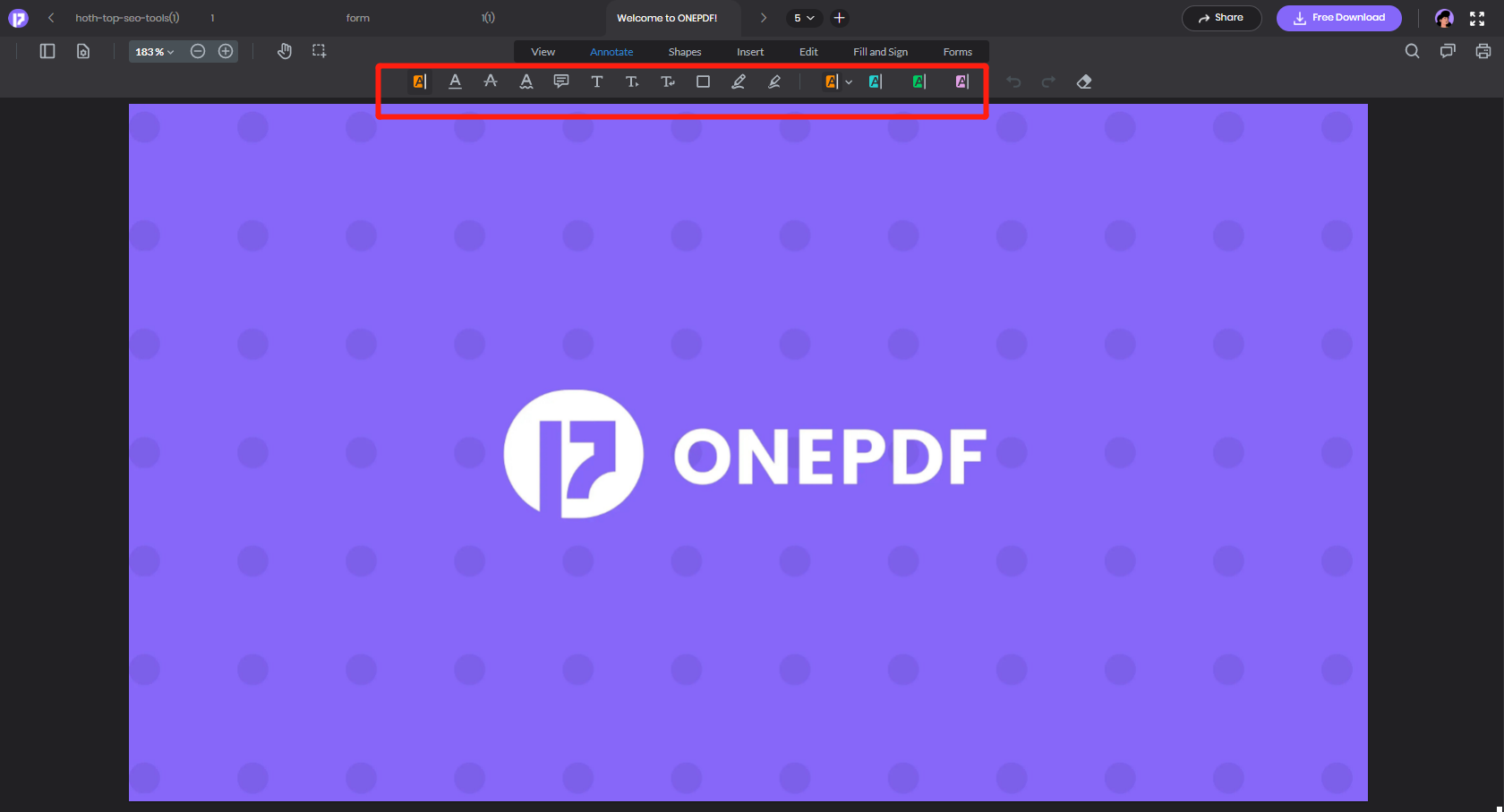 E-Signatures and Automatic Form Filling
If you're an experienced PDF tool user, you must know how easy and fast it is to use electronic signatures. The E-signature of ONEPDF allows you to sign PDF documents electronically, without the need for printing, scanning, or faxing. This is particularly useful if you need to sign and send documents quickly, or if you are working remotely and don't have access to a printer or scanner. To add an E-signature, follow the steps below:
Click here to go to the official ONEPDF website

Click Log In to create and log in to your account

Click Open files and select Fill and Sign icon, then you can manage your file. There are enough features that you can apply like Signature, Free Text, add Cross, Tick, and Rubber Stamp.

Select Signature then click "+Signature", now you can choose three types of signatures: Draw Signature, Type Signature, and Upload an Image to serve as your signature

Let's take Draw Signature as an example. You can sign directly in the box below with a mouse or a capacitive pen. There are three text colors that you can choose: black, blue, and red. Once everything is OK, click "Create" and place the signature where you want to place it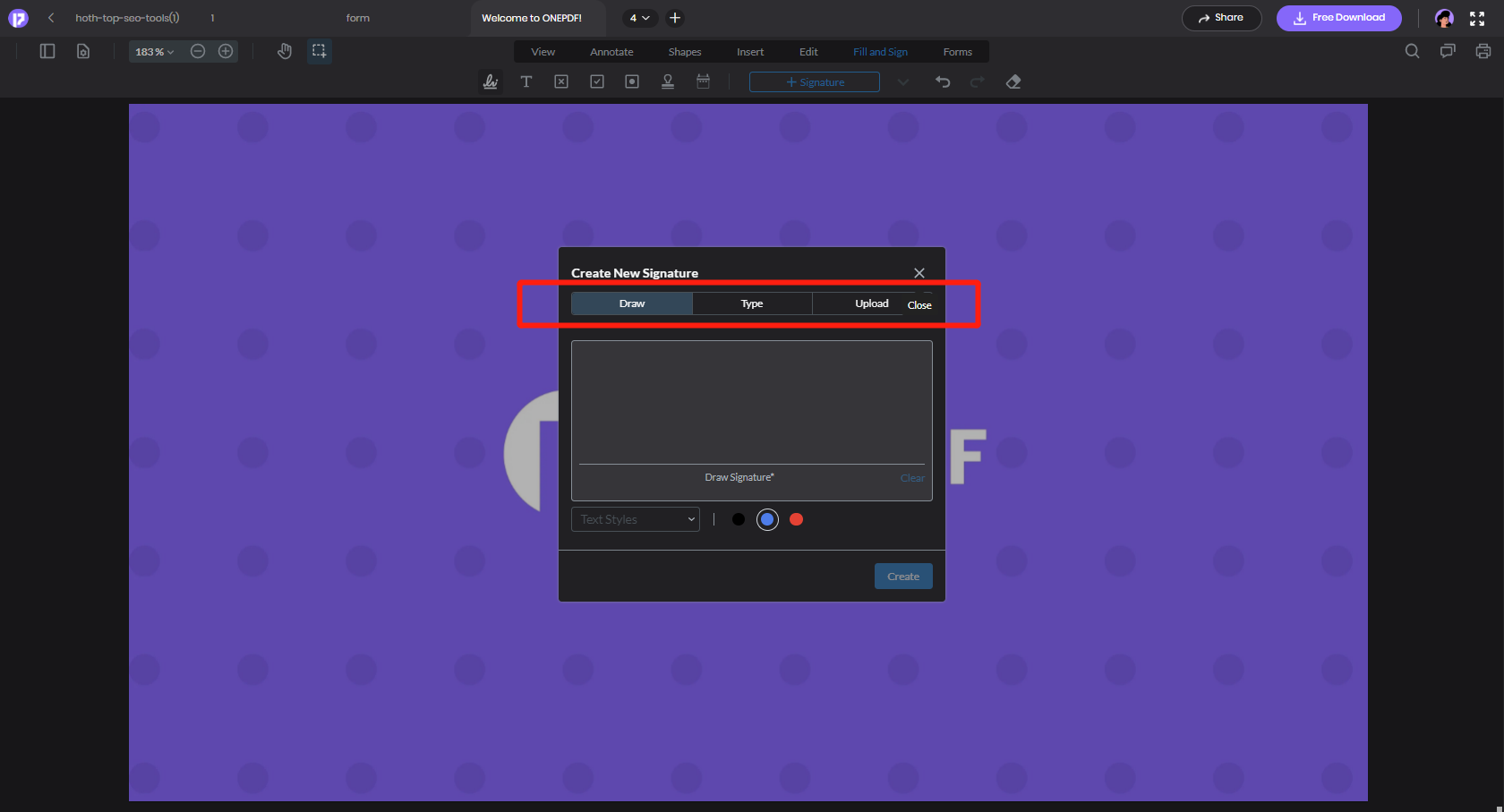 6. Click Free Download to save it
Besides, ONEPDF also has a powerful feature that can help you to streamline your workflow: automatic form filling which allows you to quickly fill out PDF forms by automatically detecting the form fields and filling them in with your information. This can save you a significant amount of time and effort, particularly if you need to fill out multiple forms with similar information.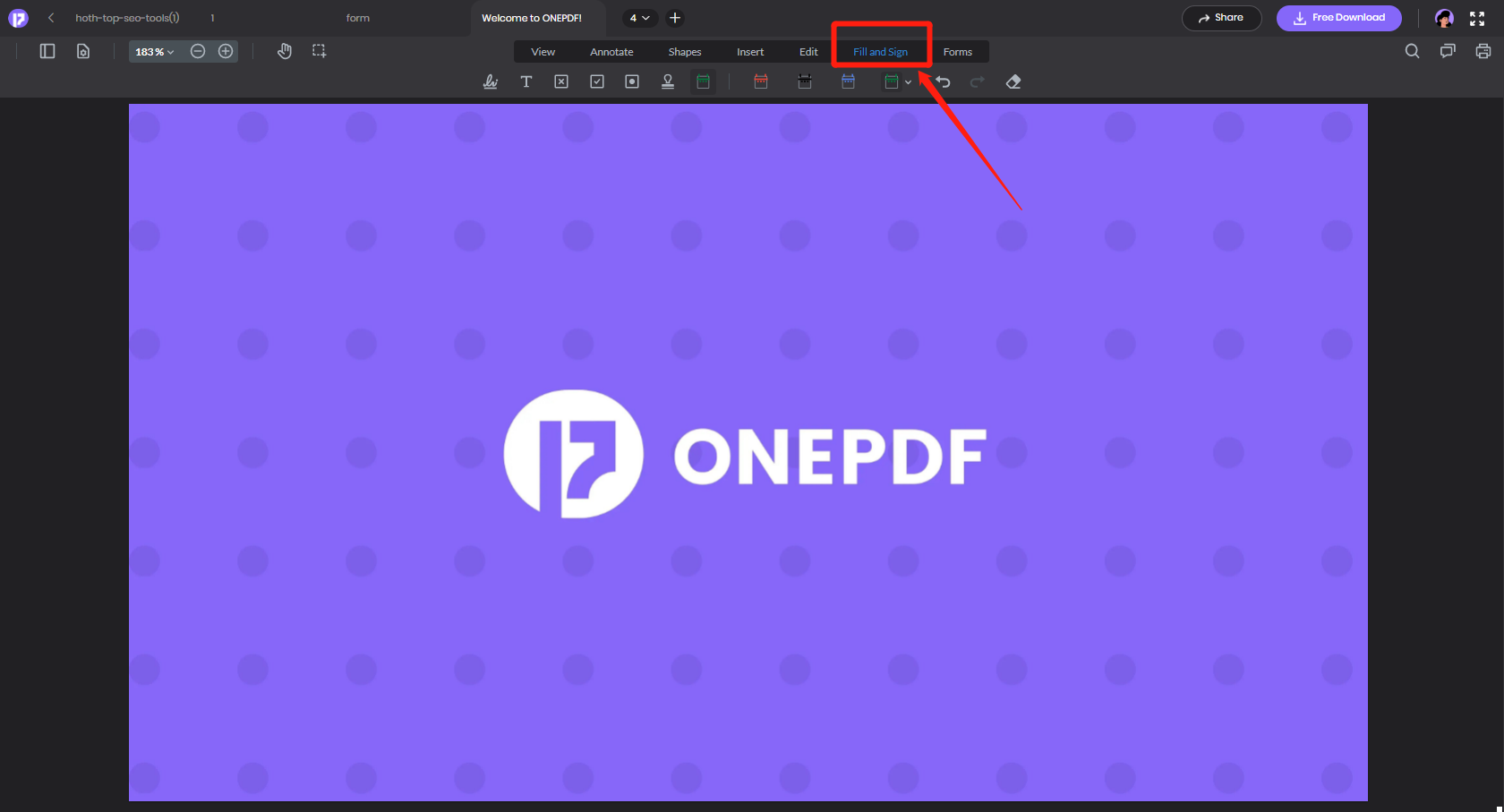 Comment function and Watermark
In addition to the regular feature of adding comments to PDFs, ONEPDF also provides a very outstanding feature— printing the comment that you or others add, which is particularly useful for group projects or peer reviews. You can easily leave comments or feedback on a document, and then print the document with the comments included. Want to know the specific steps? Follow the steps below.
Click Annotate button in the toolbar field, then click the Note button

Add your comments to the pop-up window on the right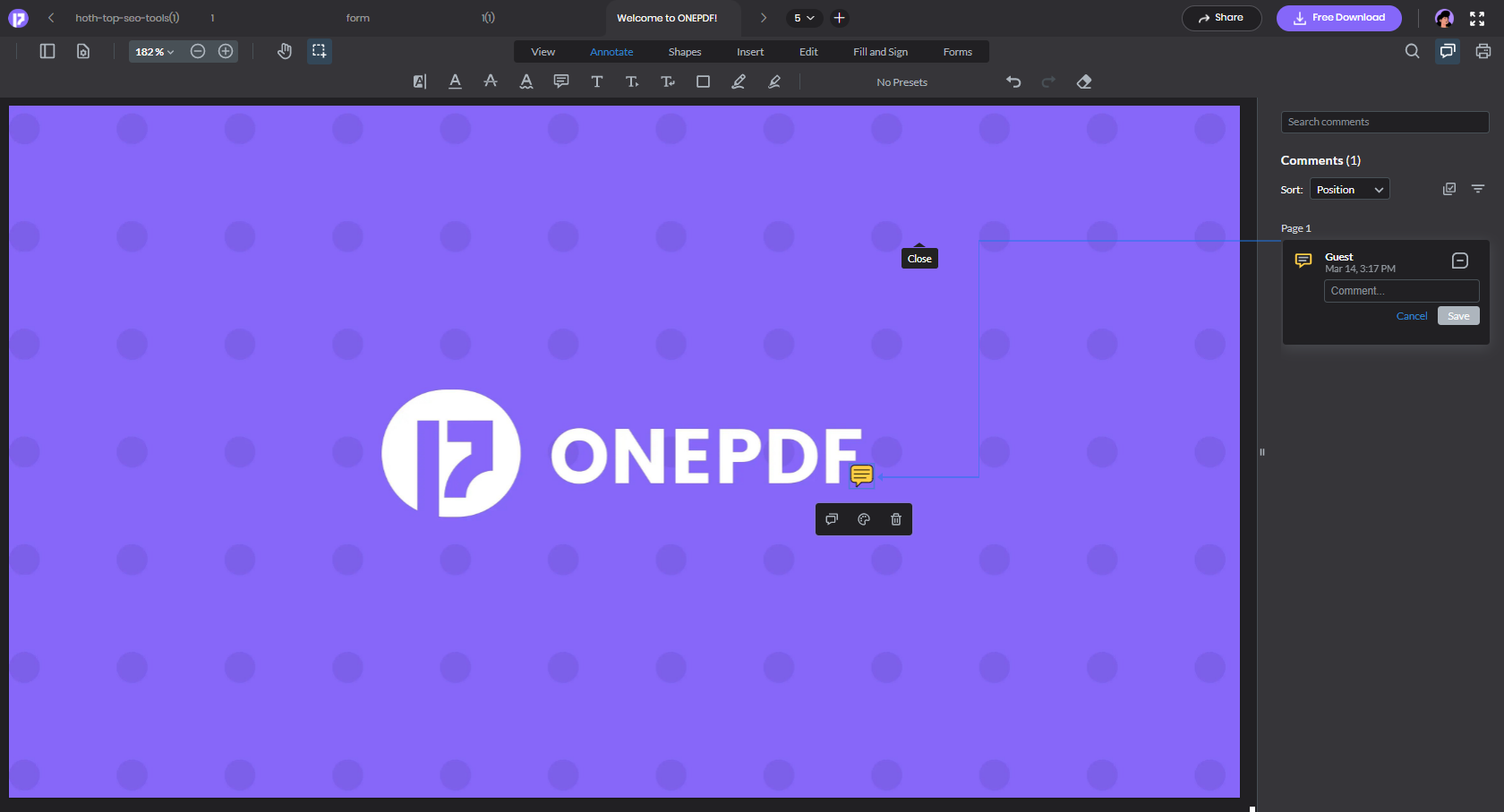 3. If you want to print your PDF as well as the comments on it, click the Print Setting button at the right corner of the page, and tick Include comments to print your PDF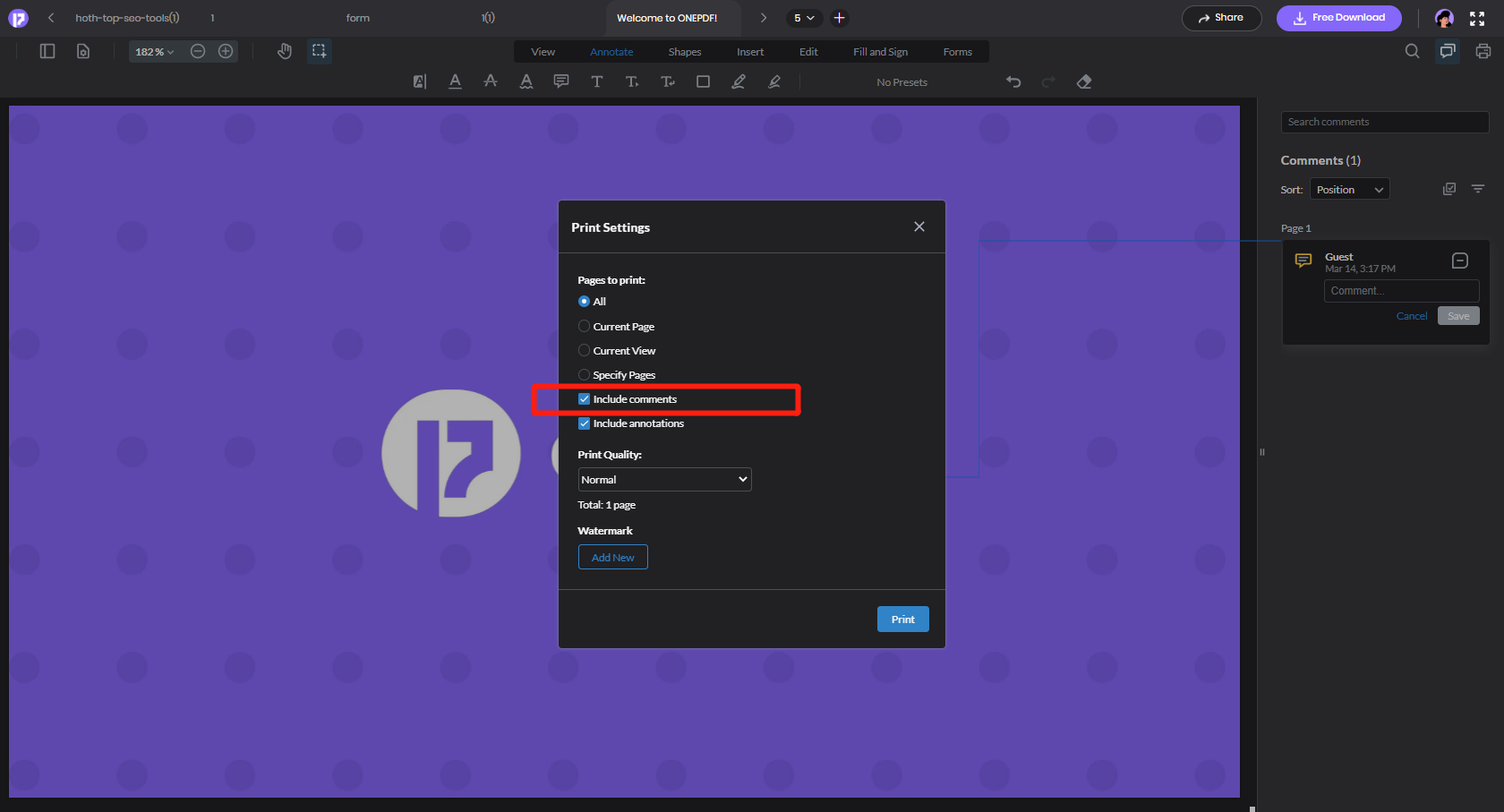 You can also add Watermark when managing your printing settings. You can choose the watermarks' location, font, size, opacity, and style. With watermarks, you can protect your work or add a professional touch to your documents.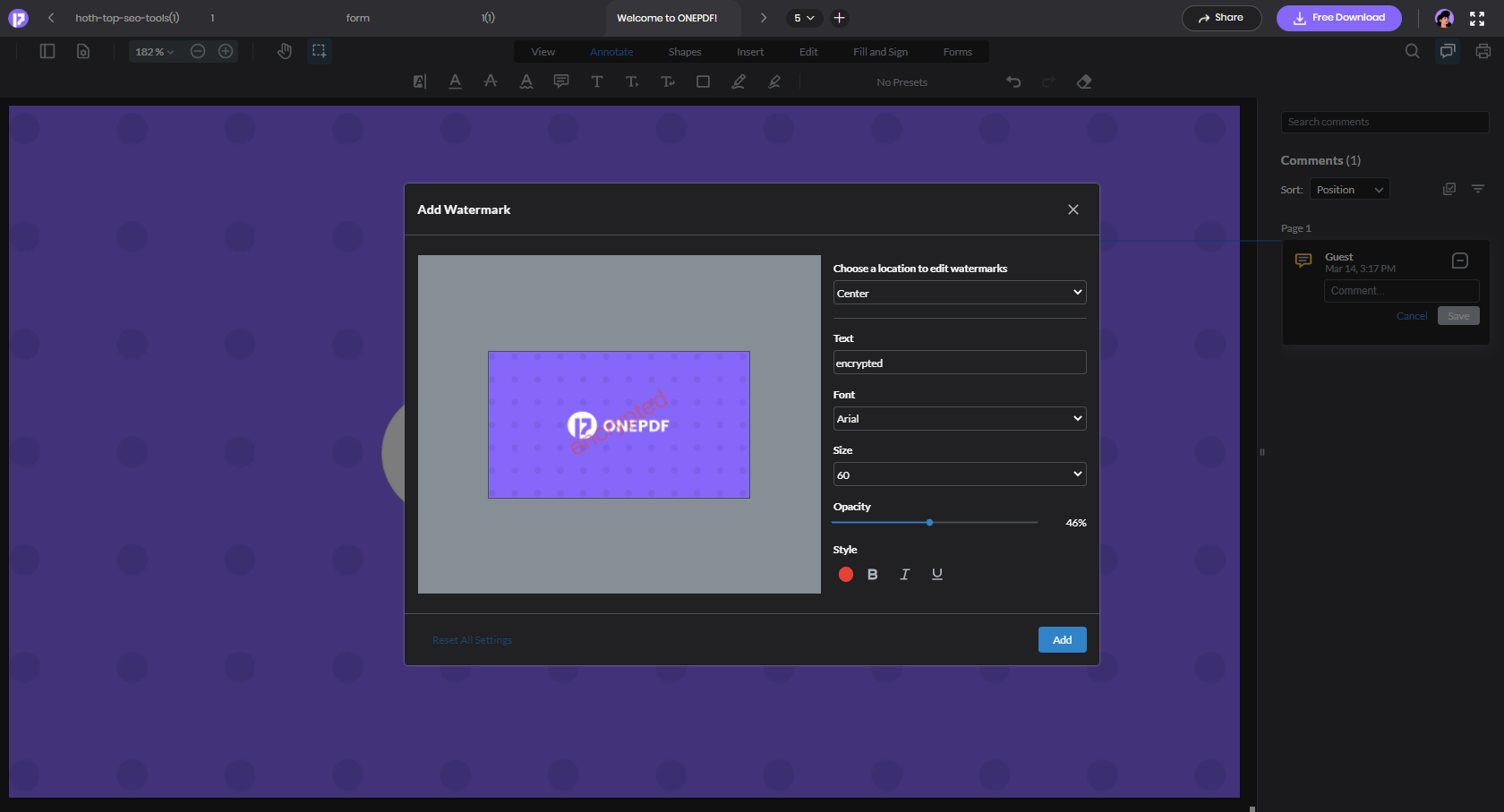 Summary
Overall, ONEPDF is a powerful and versatile PDF tool and its most appealing part is that all of its features are free to use! Without downloading an APP, you only need to enter the website, create your account and use it for free! With ONEPDF, whether you need to convert PDF files to other formats, fill out forms, add comments and annotations, or sign documents electronically, ONEPDF has you covered. So why not give it a try and see how it can improve your workflow? Visit our website today and try ONEPDF to experience the benefits for yourself.