PDF stands for Portable Document Format. Nowadays, PDF is the most common file format to use anytime and anywhere because of its robust processing of files, which has led it to be the most preferred tool in the workplace. Enterprises ranging from listed companies to startups and small companies are all accustomed to using it. PDF allows you to store documents, and fill forms electronically and securely. As it was created by Adobe in 1993, it undoubtedly has become the flagship product of Adobe after years of amelioration.
Adobe enables PDF various features that can be used to work efficiently, like converting PDF into Word, after which you can edit the document directly. Undoubtedly, this feature is a great help and has also received praise from amateurs and professionals alike. However, for home use or small businesses, Adobe is not the best choice.
High Subscription Fees of Adobe
It is understandable that many people consider Adobe Acrobat their first choice because PDF is a file standard that was started by Adobe. However, for home use, it may be too expensive. This powerful PDF software has two main subscription plans: Standard and Pro. The Standard plan costs $14.99 per month or $179.88 per year while the Pro plan costs $24.99 per month or $299.88 per year. Features like converting file formats, and adding signatures and annotations all require you to subscribe to its standard or pro plans so that you can use them to help with your work.
ONEPDF——the Best Option for You
In this case, we introduce you to an Adobe Acrobat alternative that can be used to create, view, annotate, and definitely convert PDF to Word. And most importantly, it's a tool for free!
ONEPDF is a PDF powerhouse that will fulfill all your document needs. Building on solid features such as annotation, converting, and protecting your PDF files, ONEPDF allows you to maneuver through your PDF files. Besides, it is an easy tool to get started, let's use the file format conversion feature as an example.
How to Convert PDF to Word with ONEPDF
As Adobe has high subscription plans even though you just want to convert PDF to Word, the free online PDF converter may be a great help——ONEPDF, a free tool for all its features, converts PDF to Word in seconds.
Step 1: Go to the ONEPDF Website. You can log in or create your profile, which will assist your future operations. The website and tool are universal and can open up on all compatible devices. Therefore, fill in your details, and you are ready to convert.
Step 2: Click on PDF Converter. By clicking on this option, the page will lead you to a portal for converting your PDF to word. The tool is capable of doing that to other formats as well. But since we are talking about the word, we will continue with the DOCX format.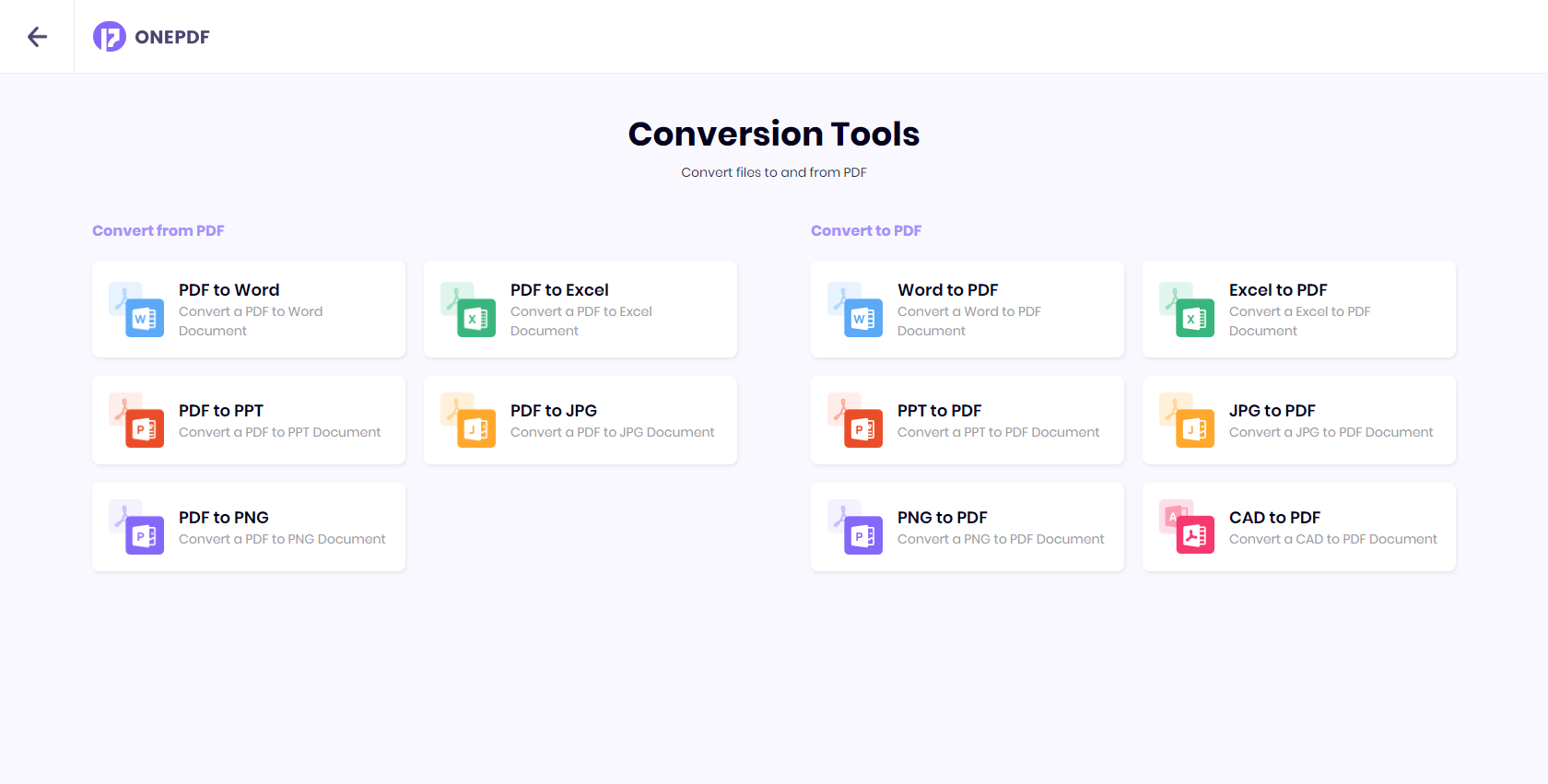 Step 3: Add Files. Click on the "Add files" option. Here you can browse files from the computer or laptop. You can also directly drop your files in the box. The portal will upload these files for conversion.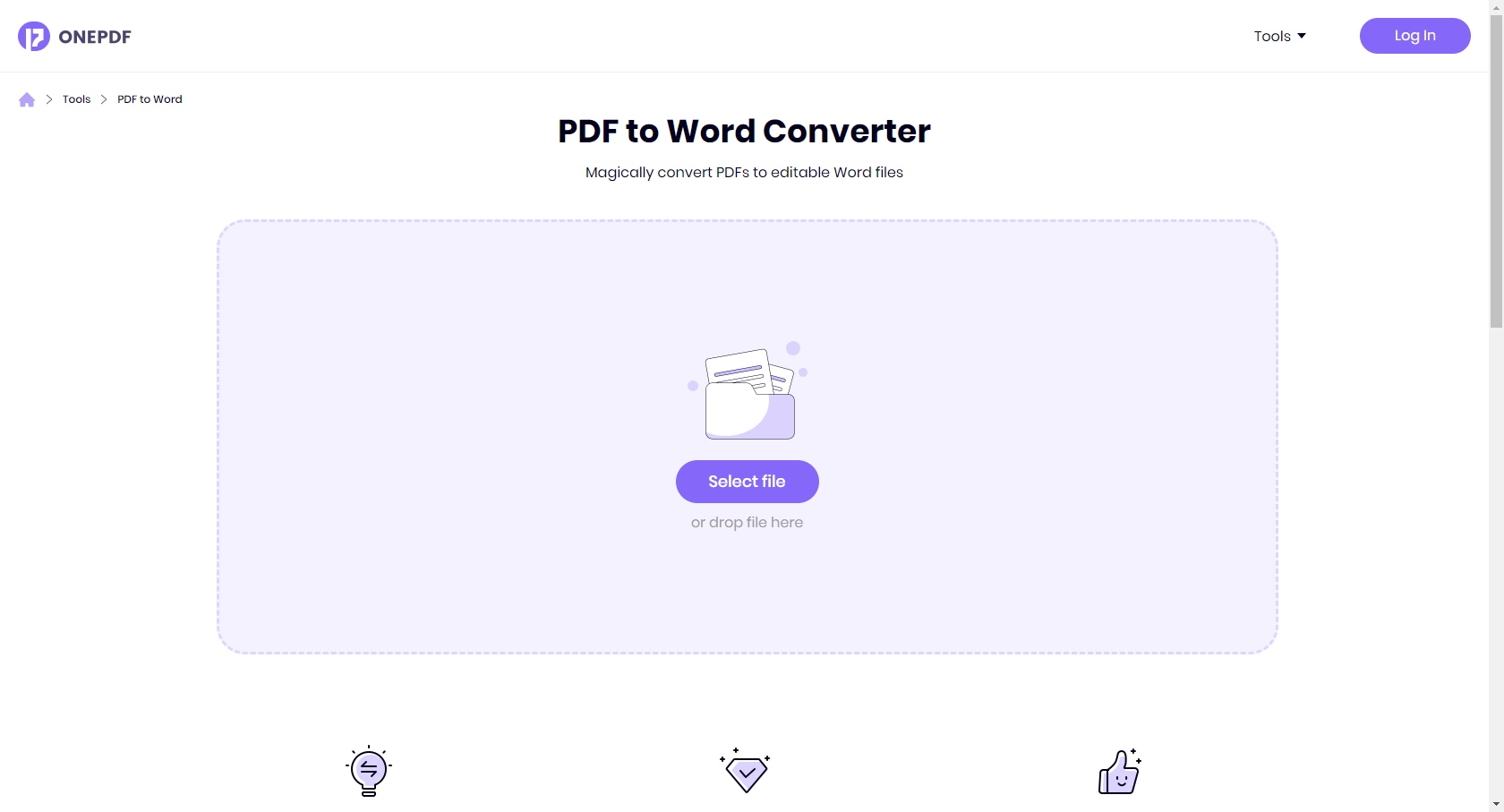 Step 4: Download. The website will take over the operations from here. ONEPDF will convert your files, and you will then have the option to download your converted PDF files as per your requirement.
Therefore, you can convert your PDF documents with these four simple steps. It will be a smooth experience without any hurdles for you.
20+ Free ONEPDF Features to Make Your Work Easier
With our fast, free, and efficient converters, converting PDF to Word docs should not take more than a few seconds. In addition, ONEPDF also offers over 20+ different tools to decrease your workload, when dealing with both document and image files. It stands out for its advantages below:
Easy, work faster, and completely free

User-friendly interface and customized layout for maximum productivity and ultimate reading experience

Collaborate, manage, and share your digital documents with others in real-time

Leave comments and collect feedback on PDF files and print them freely

Easily convert images, Word, and other files into digital PDFs

View, edit, and duplicate all markups in one place. Add texts, images, drawings, lines, and shapes to your PDFs.

Compatible with all devices and popular browsers

No need to download software to use
In general, what ONEPDF can offer you is an all-around edit tool that helps you better manage and edit your PDF files. You can easily convert PDF to Word documents within a few seconds, free of charge. ONEPDF is the last PDF application you will ever need. Click Here to know more about ONEPDF. Click Log in to start your enjoyable PDF journey. Feel free to contact us at support@onepdf.online if you have any questions.