Are you looking for a convenient way to analyze complex data buried in PDFs? Look no further! Converting a PDF to an Excel document indeed is a powerful tool that can help streamline your data analysis. Specifically imagine easily extracting data from financial reports, charts, and tables in a matter of minutes. Whether you're a business analyst or a student working on a research project, PDF to Excel conversion can save you time and effort. So why struggle with deciphering a PDF when you can effortlessly convert it to Excel?
In this article, we'll discuss 3 ways to convert a PDF to an Excel file, hoping to give you a hand.
ONEPDF – Best&Free Way to Convert PDF to Excel
ONEPDF is a free and simple PDF online tool that allows you to convert PDF to Excel, Word, JPG, and more than a dozen other file types in editable form, allowing you to make changes on your native platform. It's a strong web tool with a user-friendly layout and a wide variety of useful functions. Conversion, annotation, and form filling.
Moreover, ONEPDF's conversion results and user interface have been lauded for quite some time. Here are the steps you need to do to use ONEPDF to make your PDF into an Excel file:
First, enter the official website of ONEPDF

Then, create an account by filling in your email address and password

Next, click the Convert button and select the tools(PDF to Excel)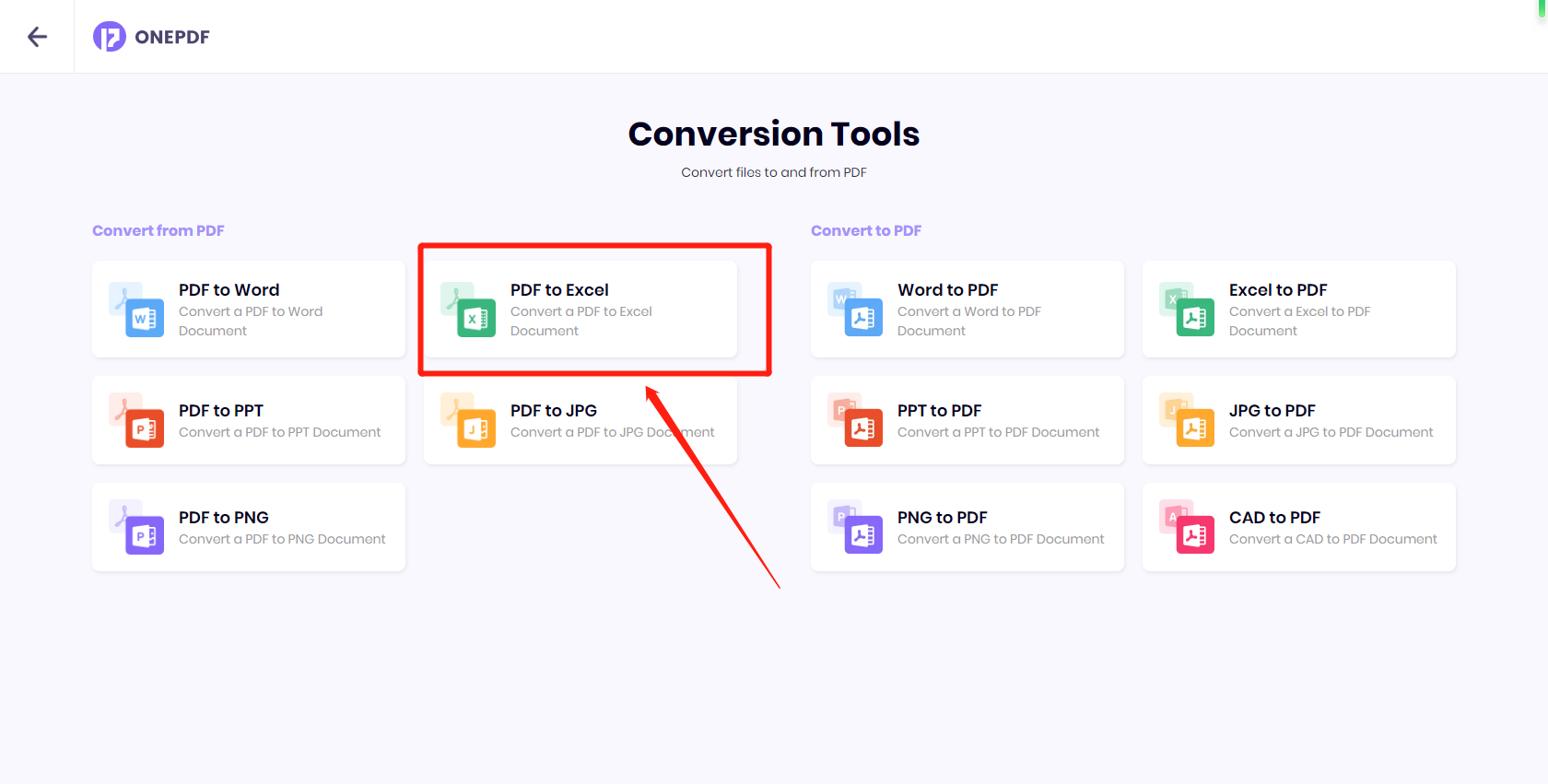 4. And select or drop the PDF file you want to process, then wait for its loading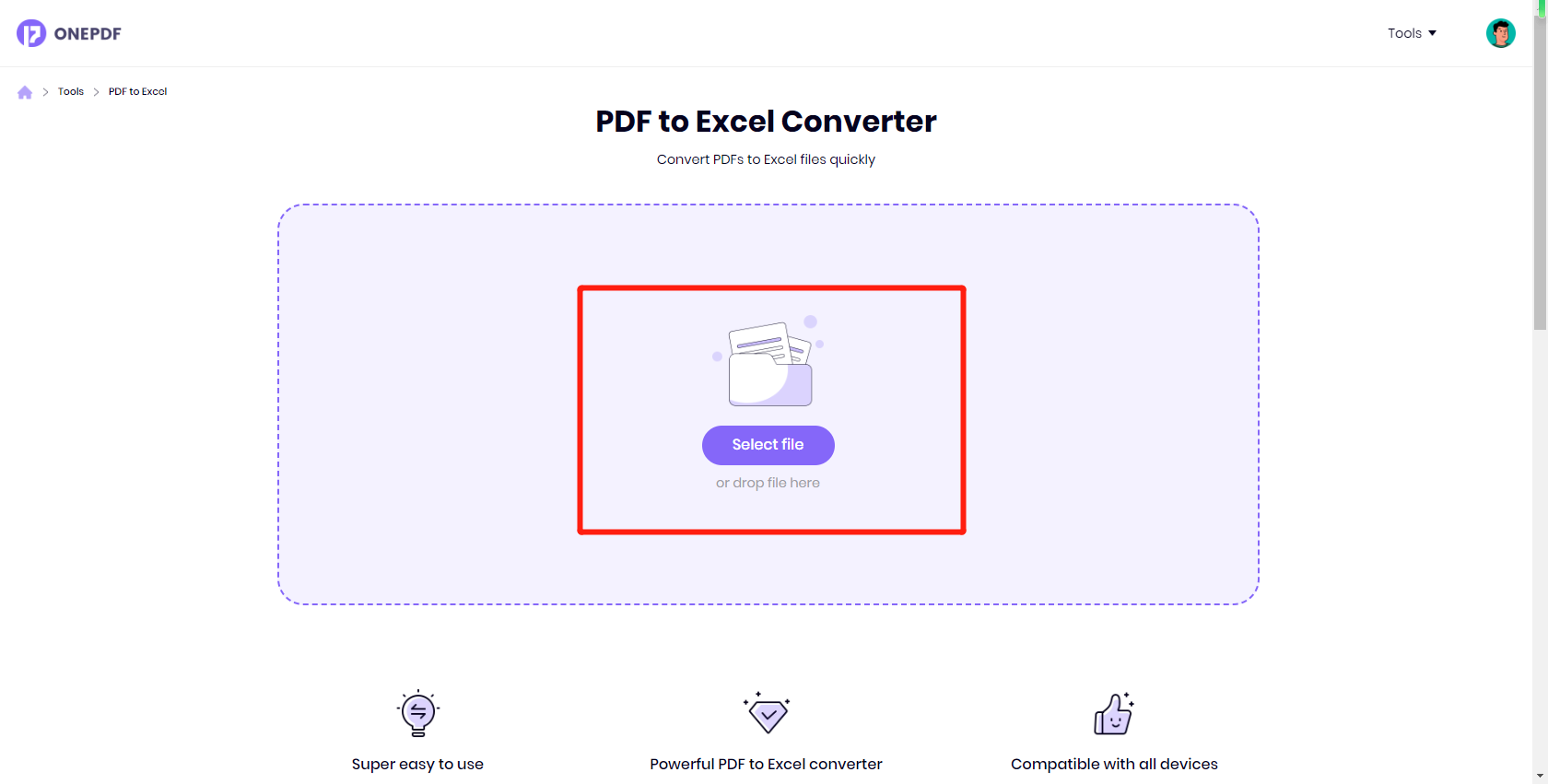 5. In a few seconds, you will get the file in Excel format
6. At last, click the Free Download button to get your Excel file
More about ONEPDF:
Easy, work faster, and completely for free

Easily collaborate, and manage documents with coworkers in real-time

Freely make comments and collect feedback on PDF files

Add your own Personalized Comments to PDFs

Instantly Transform PDF to Word, Excel, PPT, JPG, and PNG. Similarly, converting them back to PDF

Read documents from ONEPDF without downloading an app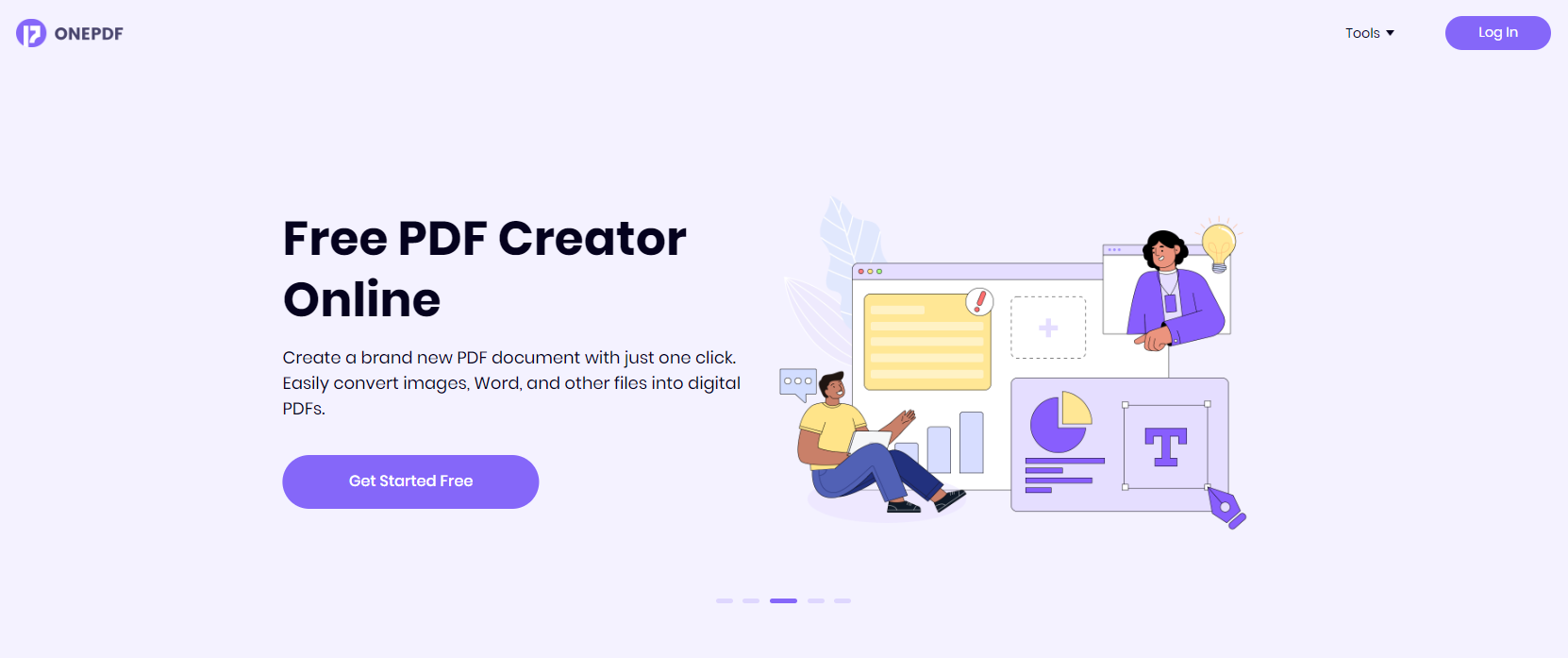 Convert PDF to Excel with Adobe Acrobat Pro DC
Without a question, Acrobat Pro DC is one of the most powerful and feature-rich PDF editors available. The conversion engine is also robust, highly accurate, and optimized for intensive PDF processing. However, as we all know its pricing is typically rather exorbitant, which may be an issue for individuals who are constrained for funds, such as students, entrepreneurs who are just starting out, and smaller businesses that process a lot of paperwork.
Despite of this, no list of PDF conversion tools could be considered comprehensive without including Adobe Acrobat Pro DC, which in fact holds the position of the market leader in the PDF field.
Steps to Convert PDF to Excel in Acrobat Pro DC
Firstly, in the Acrobat Pro DC interface, click the My Computer button in the Home tab to navigate to and select the file you want to convert to Excel. Import the required PDF file.

Second, click the Tool tab to see the list of options on the left-hand side panel. Choose Export PDF and choose "spreadsheet" as your export format, and then select "Microsoft Excel Workbook."

In the end, click "Export" and name your new Excel file. Then click the "Save" button.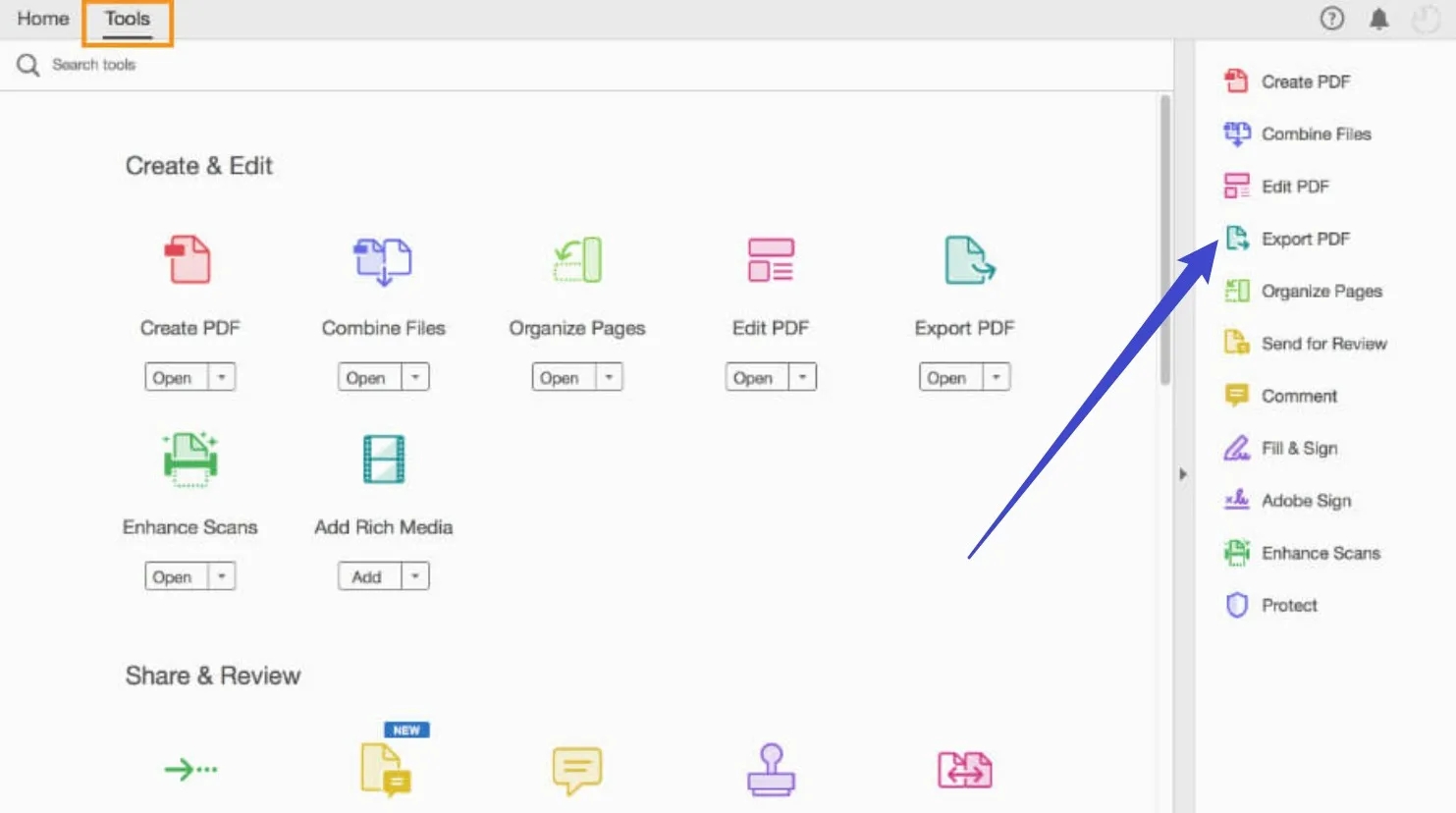 Manual Copy Paste to Convert PDF to Excel
Follow the instructions below to copy and paste your PDF file to Excel.
Open any PDF file you want. Select the content you want to convert

Then unfold a blank Excel worksheet -> Right click on any cell and Context Menu appears -> Select Paste Special

Next, Paste Special Window will appear, Select Text and Press OK

In the end, your content will appear but Excel does not retain any formatting as you have in your PDF, because Excel will likely put the entire content into one column.
At the same time, you can skip steps 2 and 3 and go straight to Ctrl+V. Be aware, however, that if you want to convert complicated or massive PDF files, you won't be able to use this method successfully. In other word, this method will only be useful for converting simple data. In addition, you still need to alter the data that you have copied, making this option less practical than the other two we have outlined.
Compare with 3 Methods to Convert PDF to Excel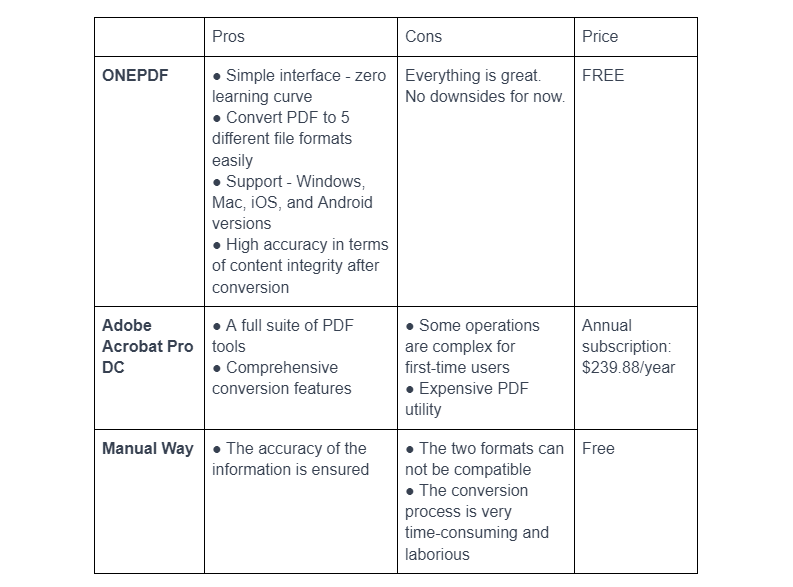 Conclusion
In conclusion, when it comes to converting PDF files to Excel, undoubtedly ONEPDF is the best option available. What's more, not only does it provide accurate and reliable conversions, but it also offers a user-friendly interface and a range of customization options to suit your specific needs.
And the best part? It's completely free. That's right and you can convert as many PDF files to Excel as you want without spending a single penny.
So why waste your time and money on unreliable and expensive PDF to Excel-conversion tools when ONEPDF is just a click away? Try it out for yourself and experience the convenience and quality of the best PDF-to-Excel converter out there. If you have any problems, feel free to contact us at support @onepdf.online .