Are you tired of manually recreating presentations from scratch every time you need to make a change or add new information? Converting documents from PDF to PowerPoint is essential in the workplace, classroom, and beyond. The reason for this is that while PDF is perfect for large dissemination of information, it is less than ideal when delivering material to a specialized audience; PowerPoint, on the other hand, is excellent for presentations but isn't very cross-platform. Because of their differences, these two file formats are best friends. They compensate for one another's weaknesses and come out on top.
In this article, we'll show you how to convert PDF to PPT. Whether you're a student, educator, or business professional, learning how to convert PDF to PPT can help you streamline your workflow and enhance your presentations.
With our step-by-step guide and expert tips, you'll be able to convert your PDF presentations to PowerPoint with ease, without losing any formatting or quality. Let's get started!

How to Convert PDF to PPT with ONEPDF
ONEPDF is not your average PDF to PPT converter. It supports more than a dozen output formats with various types of input PDF files: editable PDFs, scanned PDFs, and image-based documents. The output quality is exceptional for such lightweight software, so it's clearly punching well above its weight.
Steps of Converting PDF to PPT in ONEPDF
Step 1: Register
First, enter the website of ONEPDF, and click here to register your ONEPDF account directly
Step 2:Import the PDF
Next, open the PDF file in ONEPDF that you want to convert
Step 3: Choose PowerPoint as the Output Format
In the end, click on the Convert icon and it'll show you a list of file formats conversions. Select the PDF to PPT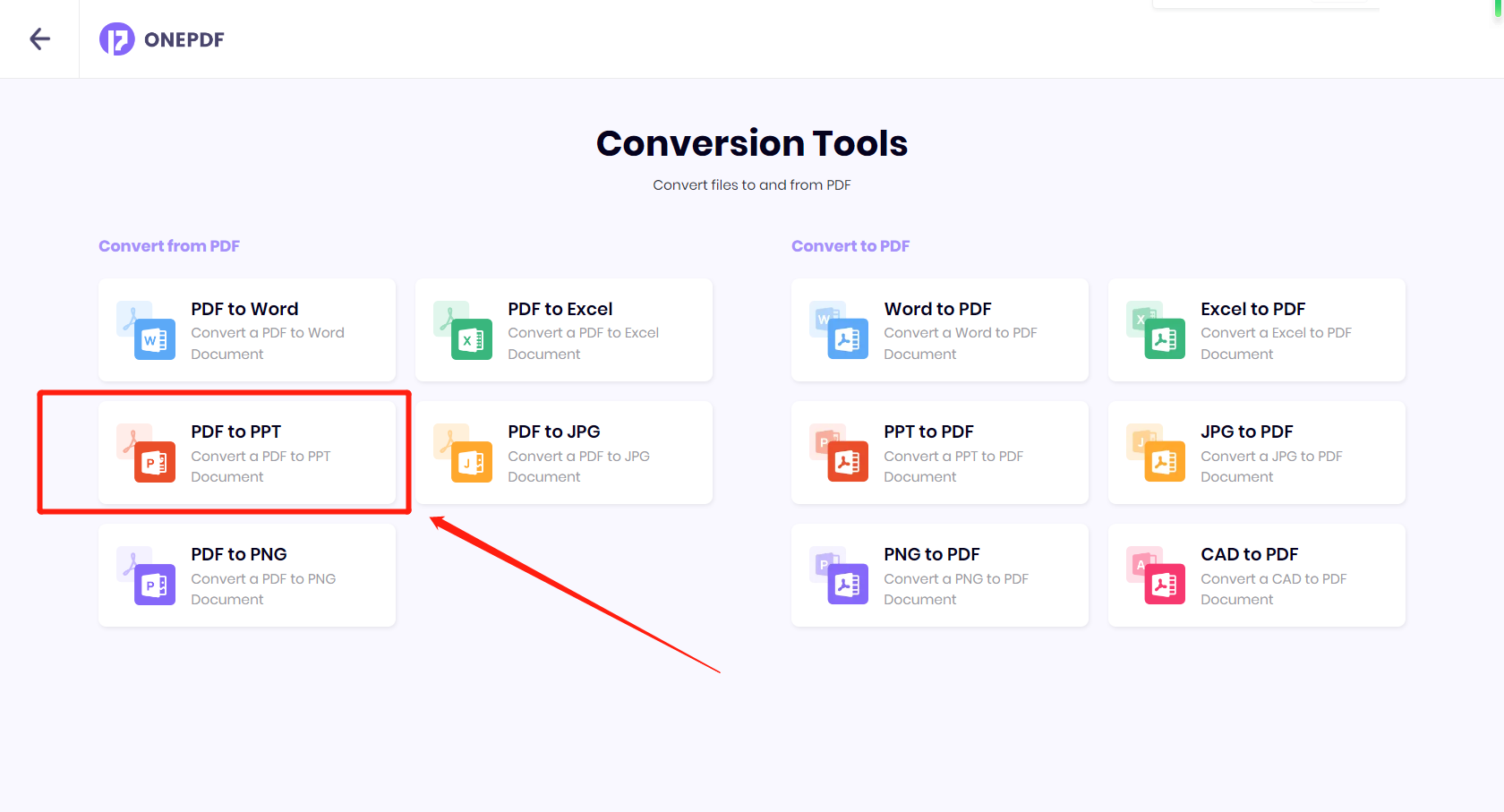 What else can ONEPDF do?
ONEPDF is an all-in-one free PDF reader for Mac, Windows, Android, and iOS. Using ONEPDF, you can annotate and organize your PDF files. You can also underline, bold, and strikethrough the text. The best thing about the ONEPDF editor is that it is totally free for all its features!
Pros of ONEPDF
The user interface is modern and easy-to-use

100% secure and reliable

High-speed conversion of PDF to other formats

Compatible with Windows, macOS, iOS, and Android

Enables commenting and feedback collection on PDF files

No app download is required to read PDF documents.
Additionally, ONEPDF also allows you to annotate your PDF files, add comments, highlight important information, and even fill out forms electronically. Whether you're a student, a business professional, or simply someone who frequently works with PDF files, ONEPDF is an essential tool that can help you save time and streamline your workflow. Best of all, it's completely free and accessible from any device with an internet connection.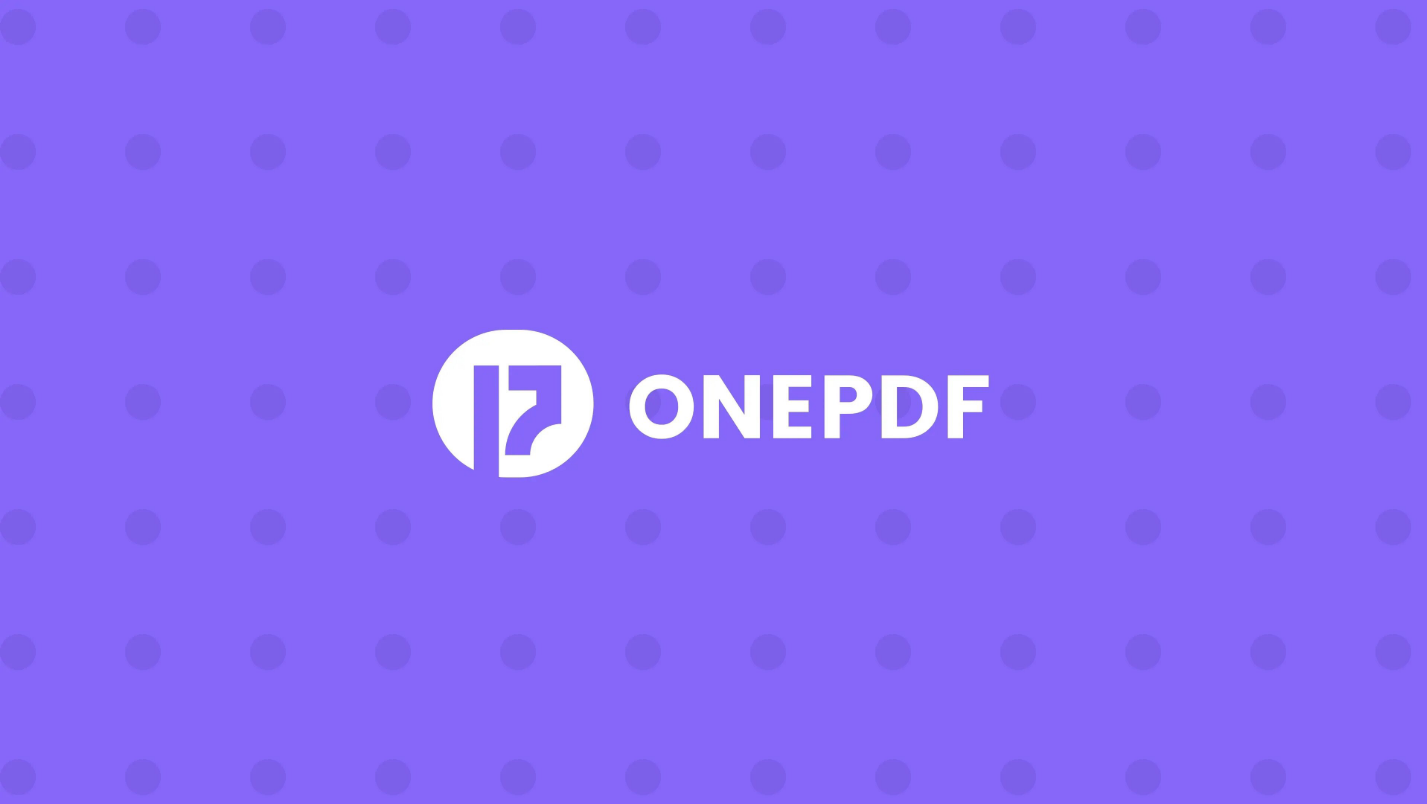 The Benefits of Presenting with PDF Files
PDF and PowerPoint are two very different formats. The PDF format offers a lot more than just making slides. You can manage your finances, worksheets, bills, applications, and business contracts on PDF, while PowerPoint is only used for creating presentations. Below are some benefits of presenting with PDF files:
1. Takes up less space
PowerPoint files take up more space than PDF files. If you present a complicated PowerPoint presentation on a slow computer, it will begin to lag. Even if your presentation is top-notch, continual lagging might have a negative effect. So, it is preferable to use a PDF file for the presentation to ensure that everything runs well.
2. Maintains the Data's Privacy
If you are concerned that someone may copy your presentation, you should use the PDF format. A PDF presentation can be password-protected. In addition, you can define an expiration date and modification limits for your Document. Similar security precautions cannot be implemented in PowerPoint, rendering it insecure.
3. Inaccessibility to PowerPoint
PowerPoint requires a great deal of storage space, and its presence on a computer can hinder its performance. This is one of the most common reasons why consumers lack PowerPoint on their mobile devices. If you deliver your presentation without PowerPoint, the file will not even open. You can avoid this issue by delivering the presentation as a PDF file.
4. Maintain the Elements in the Whole
You use several typefaces and layout styles to enhance the visual appeal of a presentation. While you may find it enticing, the recipient of your PowerPoint presentation may not. The recipient may not have the same version of PowerPoint as you, so your presentation will seem different to them. This issue can be avoided by sending a PDF presentation.
After enumerating so many benefits of presenting with PDF, you may wonder if is there a tool that can help you to demonstrate various files in PDF. Sure, ONEPDF also has features to help you convert your PPT to PDF so that your file can be shown in a more convenient way.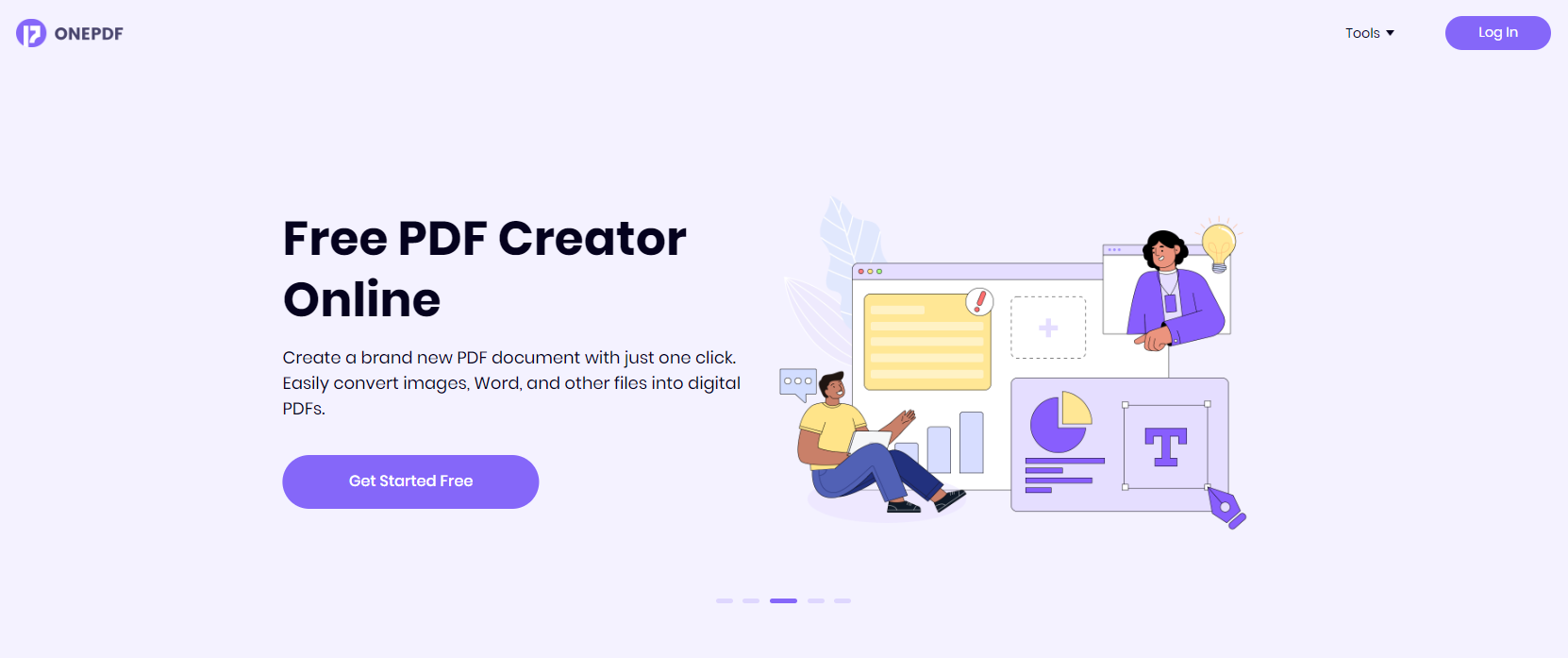 FAQs
Q: How accurate is the PDF to Powerpoint conversion?
A: Different PDF to PPT converters may give slightly different conversion results, so there's no harm in trying out a few to see which works for you.
If you'd rather save the hassle, the ONEPDF PDF to PPT tool is a great first option because of its top-notch file conversion accuracy – trusted by thousands of users daily!
When you convert a PDF to another file format with ONEPDF, it will look the same as the original document (unless its formatting or visual quality is very poor. In these cases, even ONEPDF can't help you).
Q: Is it possible to maintain the formatting of the original PDF file after converting it to a PPT file?
A: Definitely, the answer is yes! ONEPDF is a PDF tool with high quality. Even if your PDF file contains complex elements like tables, graphs, and images, ONEPDF allows you to maintain the format of the original PDF file after converting it to a PPT file, this is also a big advantage for us.
Q: Do I need to have Microsoft PowerPoint installed on my computer to convert a PDF file to a PPT file?
A: No, you do not need to have Microsoft PowerPoint installed on your computer to convert a PDF file to a PPT file. With ONEPDF, you can convert your PDF files to PPT easily and in seconds.