For college students in today's highly digitalized world, having everything (textbook exercises, learning materials, etc.) in digital means is common and simple, and this will inevitably lead to the need to use PDF software; after all, PDF format is widely loved by college students and office workers for its easy to disseminate, share characteristics. The PDF format is also more commonplace for file sharing.
Digitize Your Documents
Indeed, today's college students have the option of not just viewing preexisting PDF files, but also digitizing bulky paper books or resources.
Documents that have been digitized can be accessed from anywhere and at any time, saving you both time and physical space. Plus, you won't have to bother with lugging those bulky textbooks.
There are two primary ways to digitize documents: using a scanner or a mobile app. Most college libraries offer scanning services for students, which can be a cost-effective way to digitize documents. You can also use one of the many mobile apps that are currently available, which will allow you to scan documents using the camera on your smartphone.
A file can be scanned and converted to PDF format in a number of different methods. Here is a rundown of the specifics:
Making use of a scanner: The majority of today's scanners come pre-loaded with software that gives users the ability to scan documents and store them in PDF format. To accomplish this, set the paper with its front side down on the scanner bed, launch the software used for scanning, choose the PDF format, and then click the scan button.
Using a mobile app: There are a lot of mobile apps that let you use the camera on your smartphone as a scanner. The program only requires that you take a picture of the document you want to scan, and then it will turn it into a PDF file for you. Some popular apps for this purpose include Adobe Scan, CamScanner, and Microsoft Office Lens.
Regardless of the method you choose, preview the scanned PDF file to ensure that it is legible and accurate before saving or sharing it.
Presentation
Whether it's group work, a debriefing report, or anything else, I think every college student will inevitably have to give a presentation at some point during their time there. Many university students will use the internet to find examples of good page layouts for their pres so that they can improve their own work. You can easily find several websites online that focus on delivering superb PPT templates, which you can then download and customize to fit your needs.
If you've ever looked for PPT templates online, you know that the vast majority of them are distributed in PDF format; if you find yourself in need of one, you'll want a PDF conversion tool that can help you transform the PDF into a usable PPT file, maybe ONEPDF will be a great help.
Forms that needed to be filled out for students going abroad
If you want to pursue graduate studies at a university outside of your home country after completing your undergraduate degree, application forms, visa applications, and other paperwork will pile up. Most documents, whether obtained from a study abroad institution or downloaded independently, must be in non-editable PDF format, making it difficult to fill out the form and upload it without first converting the file format.
Working with forms increases the necessity of a PDF conversion tool such as ONEPDF. This online PDF tool supports numerous file formats for converting and doesn't cost a dime.
According to the aforementioned article, OCR technology allows for the direct conversion of PDF presentations to PPT presentations, and it also allows for the conversion of PDF files including tables to Excel format. In a nutshell, OCR software allows you to transform scanned PDFs into editable formats like PowerPoint, Excel, and Word. Click here to find out what optical character recognition (OCR) is and how it can help you convert PDF files.
How to Choose the Right PDF Software?
Taking into account your own requirements and tastes is crucial when picking PDF software. When deciding on a PDF editor, keep these things in mind:
That it works with your hardware and software

Pricing and Permissions

Interface and usability

Protection mechanisms
OCR (optical character recognition) and a built-in form builder are two more functions.
Consider the following issues before making a purchase:
How exactly do I need the PDF program to help me?

What is my price limit?

Will I be able to run the program on my computer and what kind of gadget do I have?
Try out demo versions of PDF editors or research multiple programs side by side to get the best one.
Recommended solution—Use ONEPDF
Modern and User-Friendly Interface
One of the key benefits of ONEPDF is its modern and easy-to-use interface. This makes it simple and intuitive for users to navigate and access the software's features.
2. Fully Free to Use
ONEPDF offers 100% free use, whether it is PDF to Excel, PPT or other formats, all free to use and unlimited times.
3. High-Speed PDF Conversion
ONEPDF allows for the high-speed conversion of PDF files to other formats. This is a significant advantage for users who need to convert large or multiple files quickly.
4. Multi-Platform Compatibility
ONEPDF is compatible with a variety of platforms, including Windows, macOS, iOS, and Android. This means that you can access the software and your documents from any device, anywhere.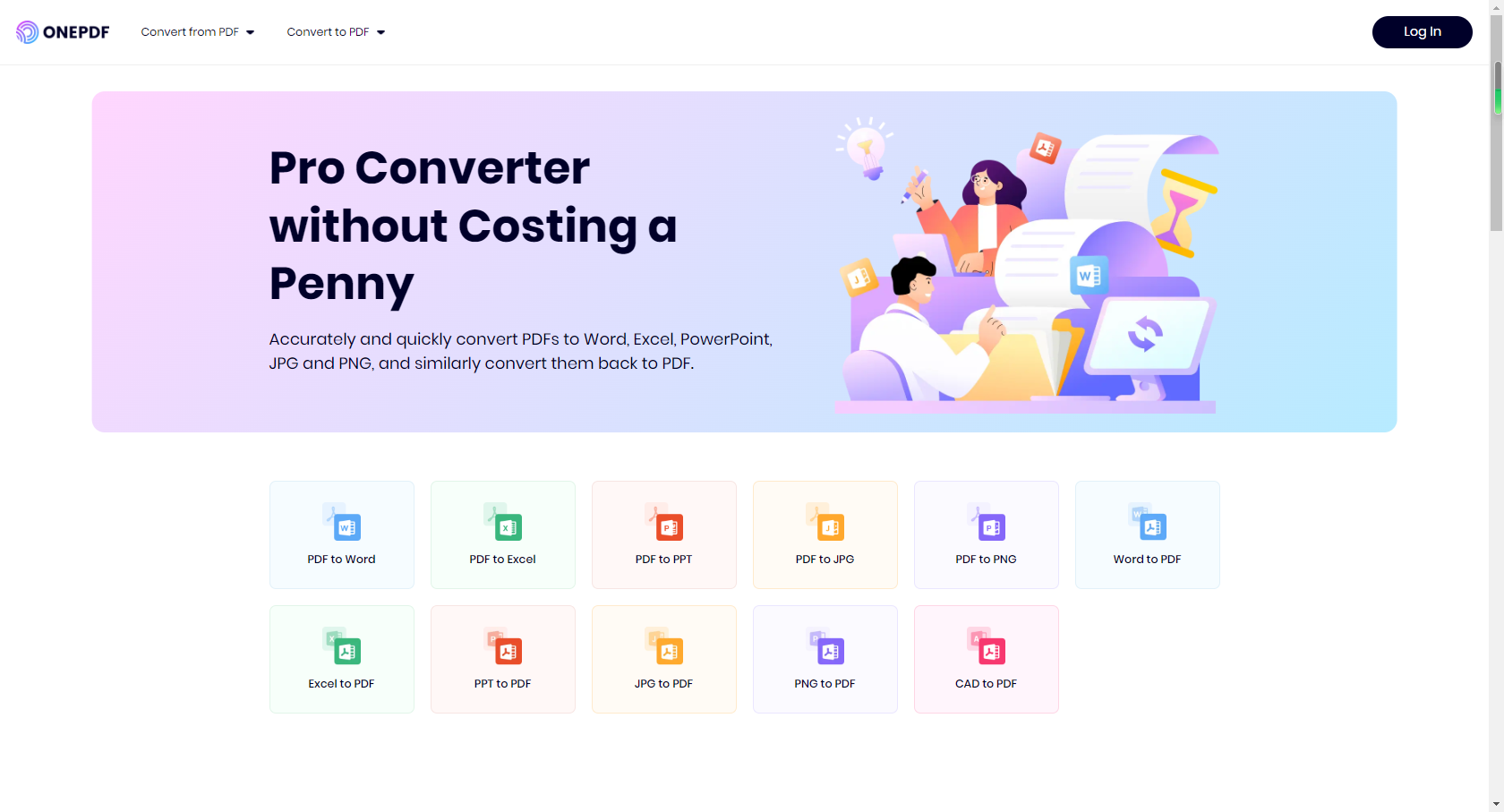 Bottom Line
There is no doubt that college students will need PDF many times in school, and having a PDF converter is the best thing to do, no matter what format, ONEPDF can cover you and complete the conversion task perfectly.