There is no lack of alternatives on the internet. With a multitude of options comes along the frustration of indecisiveness and doubts about which is best and which is not. Moreover, the costs paired with them are not convenient at all. So which one do you choose? We have figured it out for you. The best solution to work out all your PDF-related hassles is to work with the ONEPDF Editor. It includes all your needs on one unified platform and IT IS FREE OF COST. You can discover all its features on the site listed. The post below also highlights the definition, types, and features of this digital appliance.
What Is A PDF Editor?
PDF Editor is a functionally featured software. It is specifically built to let its users adjust and modify the contents of a PDF to their own choices or the ones required. Multiple functions are unified on a joint base in designing editing programs.
A PDF Editor allows you to edit and maneuver PDF (Portable Document Format) files. A PDF Editor assists you with bringing changes to a PDF document, such as adding and deleting comments or texts, inserting images, modifying the structure or layout of the document, and more. You can also use it to merge, split and extract pages. Other functional features include the provision of digital signatures, enhanced security, and other annotations.
Many terms fall under the umbrella term of PDF Editor, including,
PDF Creator – As the name goes, it assists in the creation of brand-new documents and converts scanned documents to digital versions.
PDF Converter – It lets you transfer PDF files to and fro from other file formats like Excel, Word, image files, etc.
PDF Editor – This tool allows you to encrypt documents, adjust and modify the text, add form fields, edit images, and more.

The Brilliance Of A PDF Editor: Features Of A ONEPDF Editor
PDF Editor offers enhanced functionality that supplies convenience in the hustle and bustle of your everyday life. It makes work effortless, more efficient, and more productive. With ONEPDF Editor, you can add comments to a document, annotate it, use it to collaborate with other documents, and so much more. Read on below to acquaint yourself with the many features of this wonder PDF Editor.
Editing.

With a PDF Editor, you can easily make the required changes to a document, such as correcting content or adding to it, or merely making variations in the structure by adjusting the layout and margins. There is no need to opt for a word processor or software for page layouts to make new adaptations to the document.

Annotation.

You can annotate the documents so that your team members or customers can freely leave notes or comments on the document. You can add text, drawings, images, and a range of shapes to your document.

Reading modes.

It offers personalized reading modes that offer display modes to meet your unique reading needs. You can rotate the pages and adjust or resize them to your preferences. You can also compare pages next to each other for convenient reviews.

Digital Document.

Go paperless; go green. You can scan the document with the assistance of a PDF Editor and get a digital copy. You can even convert the scanned image into text using optical character recognition (OCR).

Converter.

Easy conversion of PDF to Word, Excel, PPT, JPG, or PNG is made possible thanks to the PDF Editor. You can convert the back to PDF as well.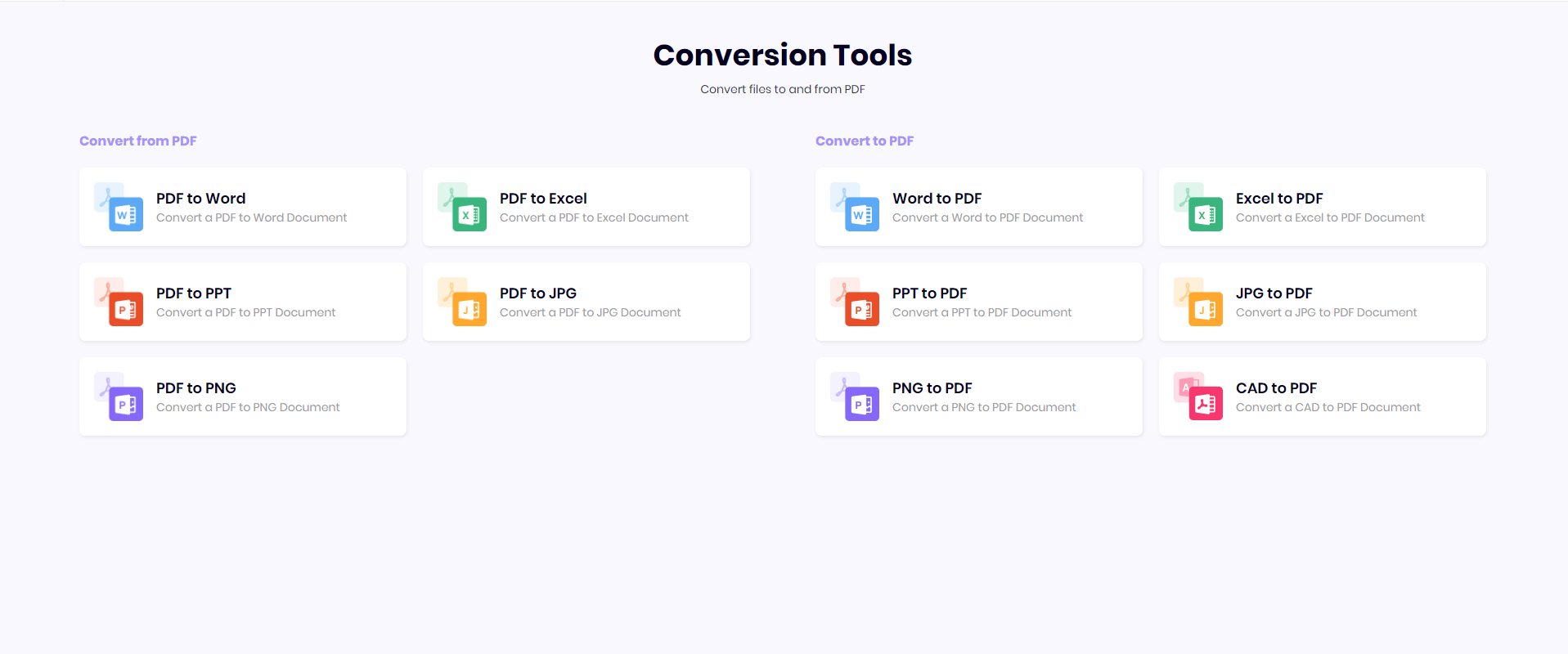 Collaboration.

PDF Editor offers access to working on a document with different team members, irrespective of their location. Your team can work on their respective devices by accessing and collaborating on a single document. They can make changes where needed or make new additions to the file.

All devices.

It works across a diverse range of devices. Due to its easy availability and easy access on desktops, phones, tablets, and the web, you can save time and costs. It runs efficiently on all devices and popular browsers.

Forms.

You can export PDF content and build new documents. With PDF Editor, you can make interactive PDF forms that allow users to fill smoothly and checkboxes.

Signature.

The Signature feature of PDF Editor allows you to enter a digital signature. You can create your signature by drawing, typing, or uploading it on the signature box while choosing varied font styles and colors of three choices to do so.
Useful toolkit.

PDF Editor enhances the quality and functionality of the existing documents with the availability of watermarks, stamps, headers, footers, and annotation features all within the PDF.

Safety ensured.

PDF Editor delivers advanced security features and password protection. Its enhanced protection safeguards your documents and reduces the threat of potential risks.

FREE.

It's free of cost! You can use the PDF Editor and enjoy its excellence at no charge. All you have got to do is sign up for it and use it to your heart's content.
Highlights of a PDF Editor
PDF Editor is a must-have for all, especially for individuals running a business or another organization. With its range and easy-to-access features, PDF Editor conveniences the digital process of sharing and editing files. One of the significant benefits of this tool is its ability to arrange an assortment of documents or files into one unit. Thereby eliminating the tedious process of copying, printing, and sharing a load of sheets with others. There are many other advantages to it, as mentioned below.
PDF Editor can convert your PDF document or file to other file types.
It offers effective collaboration with your colleagues, team members, or customers.
It can edit your PDF file to the full extent. It can change or modify the content, layout, and format of the document.
It works as a crucial tool for your business with its ability to add personalized, customizable, and fillable fields.
It offers protection for your PDF file, meaning you have the ability to redact specifics from the file which you don't want others to see.
The Best All-In-One PDF Editor Is Here
Are the reasons listed above enough to coax you into using a PDF Editor? Visit the link provided and ease your work with the numerous benefits that a PDF Editor has to offer.