As a student or a professional who works with documents a lot, then you know how utterly impossible it is trying to work on a PDF document once it is saved. Unfortunately, it is almost just as hard to find a PDF converter that will do a halfway decent job of converting your files and allowing you to proceed with your business of the day. That is why we have chosen to review two of the very best Online PDF converters out there: ONEPDF and Smallpdf.
This article runs through everything you need to know about their features, pricing, and pros and cons. So that you can easily make your choice of which is best to use.
We've all seen them, apps that promise heaven and earth with PDF conversion only for us to download and find out they are useless for anything better than the bin button. So if you constantly have to work with documents like PDFs, PowerPoint, Excel, etc, and will ever need to convert them at some point, then this is for you.
ONEPDF
ONEPDF is one of the most popular free online PDF converters out there. The site offers users a fast and easy platform for converting PDFs to Excel, PowerPoint, JPG, PNG, etc. You can also convert all formats right back to PDF seamlessly if you wish to. Some features of ONEPDF are:
Quality Preservation: ONEPDF makes it possible to convert your files without reducing their quality. In other words, after File conversion, your file maintains the same color depth, resolution, and overall visual quality.
OCR Conversion Technique: Should you wish to edit a scanned document, ONEPDF employs the OCR technique to scan, extract and convert your PDF document into a DOCX that can be edited.
Multiple Conversions At Once: Yes, you can convert as many documents as you wish on the ONEPDF file converter. That's good news when you're in a hurry.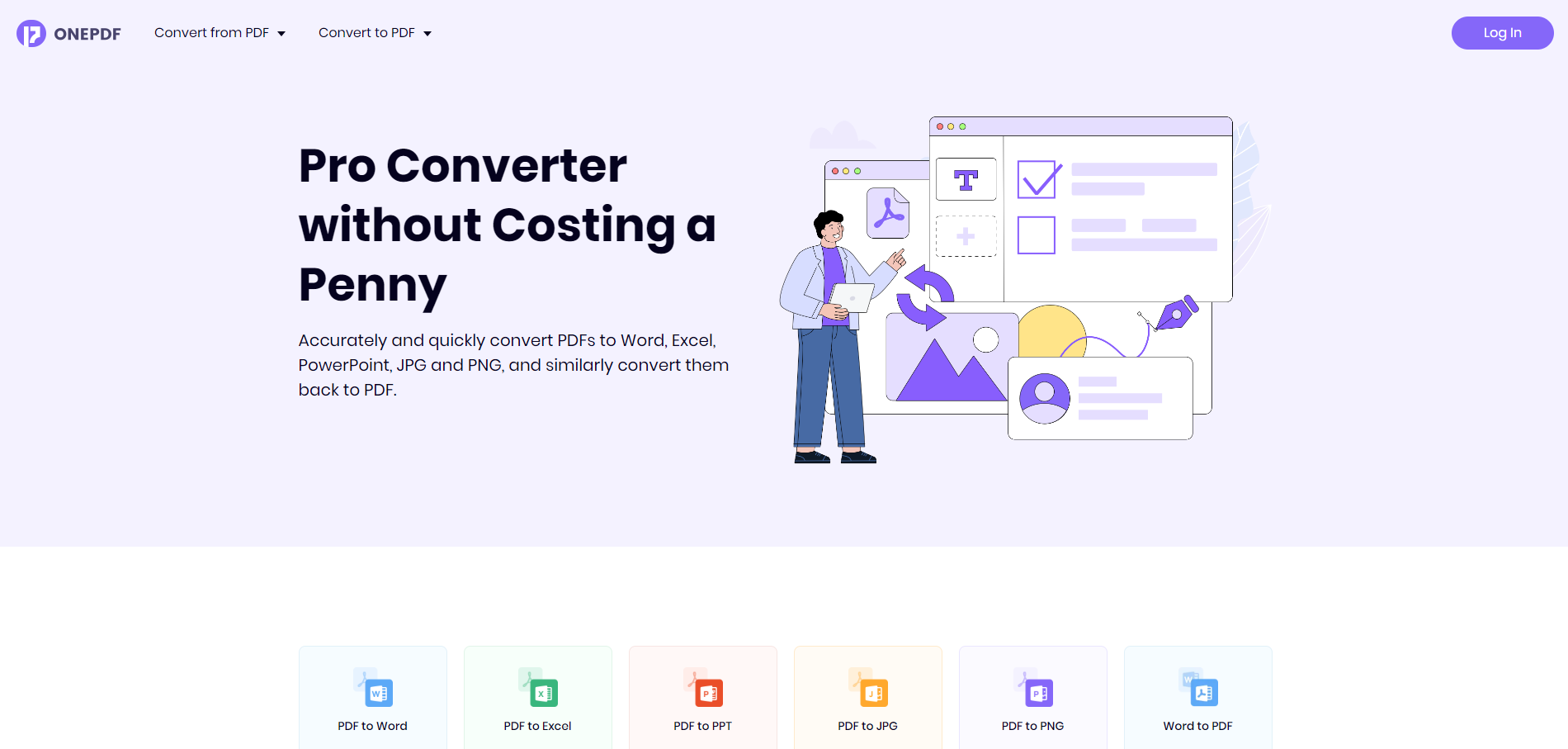 Pros
ONEPDF is free. Only requires login for unlimited and faster access.
Easy-to-use and straightforward user interface.
Your files are safe as our PDF file converter uses 256-bit SSL technology to encrypt all files.
Time-saving with the batch conversion feature.
Does not require professional knowledge.
Cons
ONEPDF only does one thing, PDF conversion, which means if you wish to do other things on your PDF, you might have to use other websites to help.
If you do not create your ONEPDF account, you might have to undergo a waiting period of 60 minutes after downloading your first PDF on the site. The solution to this would simply be to create an account.
Pricing
With ONEPDF, you don't have to worry about any costs at all! It's absolutely free, with no pro packages or leveling-up fees to deal with.
One college student, Stewart, who uses ONEPDF regularly for school work has this to say;
"I've been using this PDF Tool for a while now and it's been a lifesaver! Converting PDFs to Word, Excel, and PowerPoint is a breeze and saves me so much time. Plus, being able to convert images to PDF is a bonus. Highly recommend!"
Another user, Benjamin, an IT professional says;
"I was impressed with how easy and quick it was to convert my PDF presentations to PowerPoint. The images and text were accurately replicated, and I didn't have to spend hours recreating them from scratch."
Smallpdf
Smallpdf is another well-known online PDF converter. The site offers users a plethora of tools, over 20, that allows users to edit, merge, compress, and sign their PDF files amongst other things. Here are the features of the Smallpdf file converter:
Different tools, One Place: At any given time on Smallpdf you can compress, merge, split, or even remove excess pages from a file all in one place.
Work Directly on Your Files: You can do quite a number of things on your PDFs with Smallpdf including highlighting, adding text, images, shapes, and freehand annotations to your documents.
Share: Smallpdf, allows you to share your work straight from the site.
Different Plans: On Smallpdf, there are different plans for your specific situation. For instance, an individual can go for the pro while 2 or more people can opt for the Team plan.
Pros
It saves you from the stress of working across different sites.
More tools to choose from at any given time.
Opportunity for teams to work together on the same document.
It offers 256-bit technology for encrypting shared documents.
Cons
The security of files is questionable as they only delete files a whole hour after you are done.
Unlike ONEPDF, they charge fees annually after a free 7-day trial.
Can be cumbersome to navigate too many tools in one place.
Not beginner-friendly.
Pricing
Smallpdf offers two different plans:
The Pro is for one person at $9 annually.
The team is for 2 people and above at $7 per person annually.
In Summary
Both Smallpdf and ONEPDF are excellent choices for online PDF conversion. It all depends on what you wish to achieve, your budget, and your particular circumstances. If you are looking for a comprehensive site that can get all your work done in one place and you don't mind parting with some money, Smallpdf is a good choice for you.
However, if you're on a tight budget and you are looking for something straightforward and easy-to-use, then you should definitely consider ONEPDF. Truth is, You might not wish to pay annually to convert your PDF, especially if you only need to do that a few times a year. And you can always find all the other tools on other free sites.