As the world gets more digital, we increasingly find ourselves using PDFs in job. Whether it's a business proposal, a school project, or even a legal document, PDFs have become an essential part of our daily lives. However, there are times when we need to add an image to a PDF document. Luckily, there is a simple solution.
How to Add an Image to a PDF with ONEPDF
Go to ONEPDF, a free online PDF tool

Select or drag the file that you want to edit from your computer.

In the main toolbar, click the Insert button and then choose Image to insert.
What Can You Do after Insertion
You might wish to edit your images further after entering them, for as by resizing or rotating them. Thankfully, ONEPDF is not only a tool that allows you to just insert images into a PDF, but it also enables you to edit the image, such as rotating, resizing, adjusting image transparency, adding hyperlinks to your image, and so on.
Zoom in and out:
Do you find that the image that you put is either too big or too small? Relax and take things easy. You can zoom in or make the image larger by dragging the corners of the image. Also, you can move the image in any direction.
Rotate images from left to right:
Once you've inserted the image, are some of your pictures the wrong way around? Then a rotate button will appear to the left of the image, which you can press and hold to rotate the image however you want.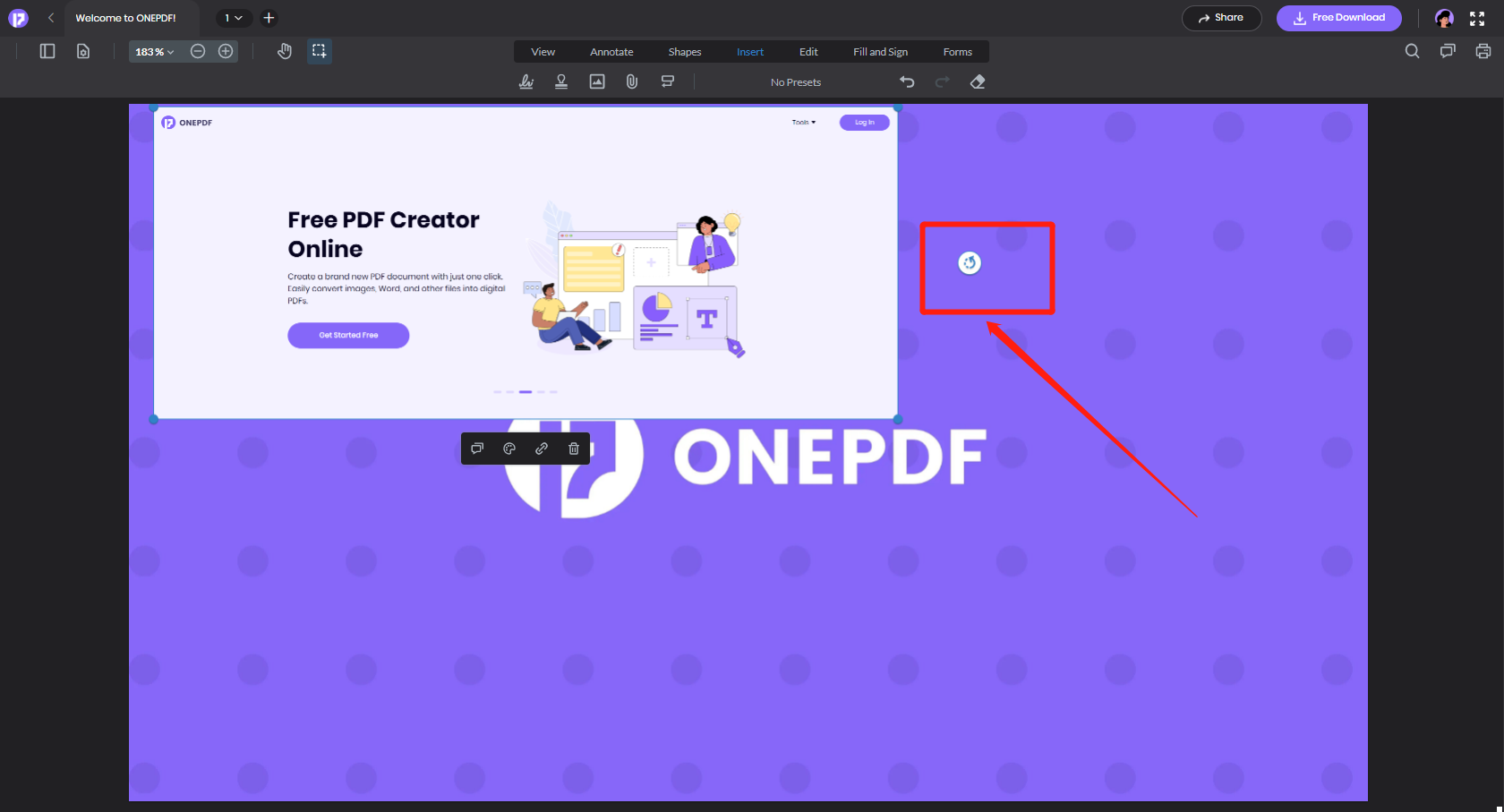 Change image transparency:
You can alter the opacity in ONEPDF in order to make some parts in your PDF appear to be hidden behind an image. When an image is selected, a Style button will appear on the toolbar below the image. Click on it to adjust the transparency of the image. Choosing a suitable transparency may make your PDF easier to read.
Add hyperlinks:
Do you wish to view more reference information within the attached image? Alternatively, does the content of the photograph intersect with that of other papers from the past? ONEPDF, in contrast to other PDF tools, gives you the ability to insert hyperlinks to photos. This gives individuals who are reading PDF files the ability to learn more about the images that have been inserted.
Acceptable Image Formats
ONEPDF enables you to insert images in JPG/PNG formats. However, if you have other images format, it's also free for you to use an image converter to convert them to JPG.
Any Other Features of ONEPDF?
ONEPDF empowers you to do much more than just insert an image into PDF files. As mentioned above, you can convert your images to JPG format. The conversion between formats is also one of its areas of expertise.
Up to 11 kinds of conversions between formats:

convert PDF to Word, Excel, JPG, and PPT, and convert them back. Using OCR technology, ONEPDF helps you finish conversion accurately and fast.

Add comments and print them:

It is also easy for you to add comments on PDF as well as print them, which may improve your working efficiency with your co-workers.

Multi-platforms:

The great thing about ONEPDF is that it can be used on Windows and Mac computers as well as on smartphones (iOS and Android).

All-in-one PDF solution

: With ONEPDF, you can manage every facet of your PDF files from a single interface. Read, annotate, convert, fill forms, OCR, protect, and e-sign PDFs.
How to Insert Images into PDF with Adobe Reader DC?
Adobe Reader DC is a well-known free PDF reader, however, the free version only offers some basic features such as reading and annotating. And if you'd like to add images to PDF, you might need to subscribe to the Pro version.
Open the PDF document in Adobe Acrobat Pro DC.

In the Tools toolbar of the "Edit PDF" section, click on the Add Image option.

Navigate to your image file, select it, and hit Open.

In the PDF page, place your pointer where you want the image to go and click there. You can resize the image by dragging the border on the edges or the corners.

After inserting the image, you can also edit the orientation and other attributes in the Edit Image section.
Free Images to Use
As stated previously, ONEPDF is a free online PDF tool that can be used to convert file formats and add images to PDF files. Now that you have access to a free and useful PDF tool, you may ask where you can obtain a huge number of royalty-free photos. Hopefully, the following information will be useful.
Pixabay: Pictures found on Pixabay are available for reuse without contacting the creator or providing attribution (though doing so is always appreciated) because they are released under the Creative Commons Zero (CC0) license. Pixabay provides a gentle reminder to check that the content depicted in the images doesn't infringe on any rights.
Unsplash: The photos on Unsplash are licensed under its own terms, which allow you to do pretty much whatever you want with them, aside from utilizing them to make a rival website.
Free Images: Free Images provides over 300,000 free stock images, and many of which have been categorized, so you can easily find the image you want.
To sum up
Adding an image to a PDF document is a simple process that can be accomplished using ONEPDF, Adobe, or other online tools. Probably ONEPDF is the most effective PDF tool you are looking for which fully meets your needs without costing a penny. Click here to explore more of its features.