You may need to share images or graphs with coworkers in the workplace, but you can't risk having their quality degrade when seen on different screens. Or as a web designer, you may want to transport your frequently-used file format, PNG, to your leader, who's accustomed to going through files in PDF. Under these circumstances, you may constantly think is there a convenient tool with simple features that can convert my PNG to PDF smoothly?
Definitely! Today, we list 3 ways to help you achieve that. The tools mentioned below range from the prominent Adobe to the user-friendly ONEPDF, wishing to give the newest information of tools to you.
How to convert PNG to PDF with Adobe
As the leader who created the PDF format, Adobe undoubtedly also has the feature of converting PNG to PDF. Besides, it's also a straightforward procedure. No need to download special software or an app, Adobe allows you to convert your PNG to PDF for free in any web browser. Just follow a few steps to finish the process and keep your project moving along.
Go to Adobe Acrobat online services from any web browser and navigate to the

convert JPG to PDF

page. Don't worry — it works with PNG files, too.

Click the blue button labeled "Select a file" or drag/drop the image file into the drop zone to upload.

Wait for seconds and the powerful tool will process it.

After the whole procedure is finished, you can download your files directly or sign in to Adobe for other sharing options.
Except for PNG, you can also upload a variety of image types to convert to a PDF, including JPG, BMP, GIF, and TIFF.
This fully functional tool is a great help for you to deal with all image formats.
How to convert PNG to PDF with iLovePDF: Step-by-step instructions
To date, over 300 million people from across the globe have made use of iLovePDF for their day-to-day PDF tasks. It's undoubtedly a tremendous number, which has also demonstrated its popularity of it among people of all ages.
In fact, users can finish their procedure of converting PNG to PDF with ease. As iLovePDF is such a user-friendly tool, it allows users to adjust the orientation and size of the page in your PDF.
Here are the steps to turn your PNG image into a PDF file. Just follow them!
Open your browser and go to the iLovePDF

PNG to PDF tool

.

The image upload button is the red button. You may also just drop it into the slot.

After uploading, you may choose between landscape and portrait orientations in the PNG to PDF settings on the right.

Make your choice of paper size here. You can choose to print the image at its original size using either the A4, US Letter, or Fit options.

Depending on your needs, you can adjust the margin size. Unless you want no margins, that is.

To create a PDF, click the convert button.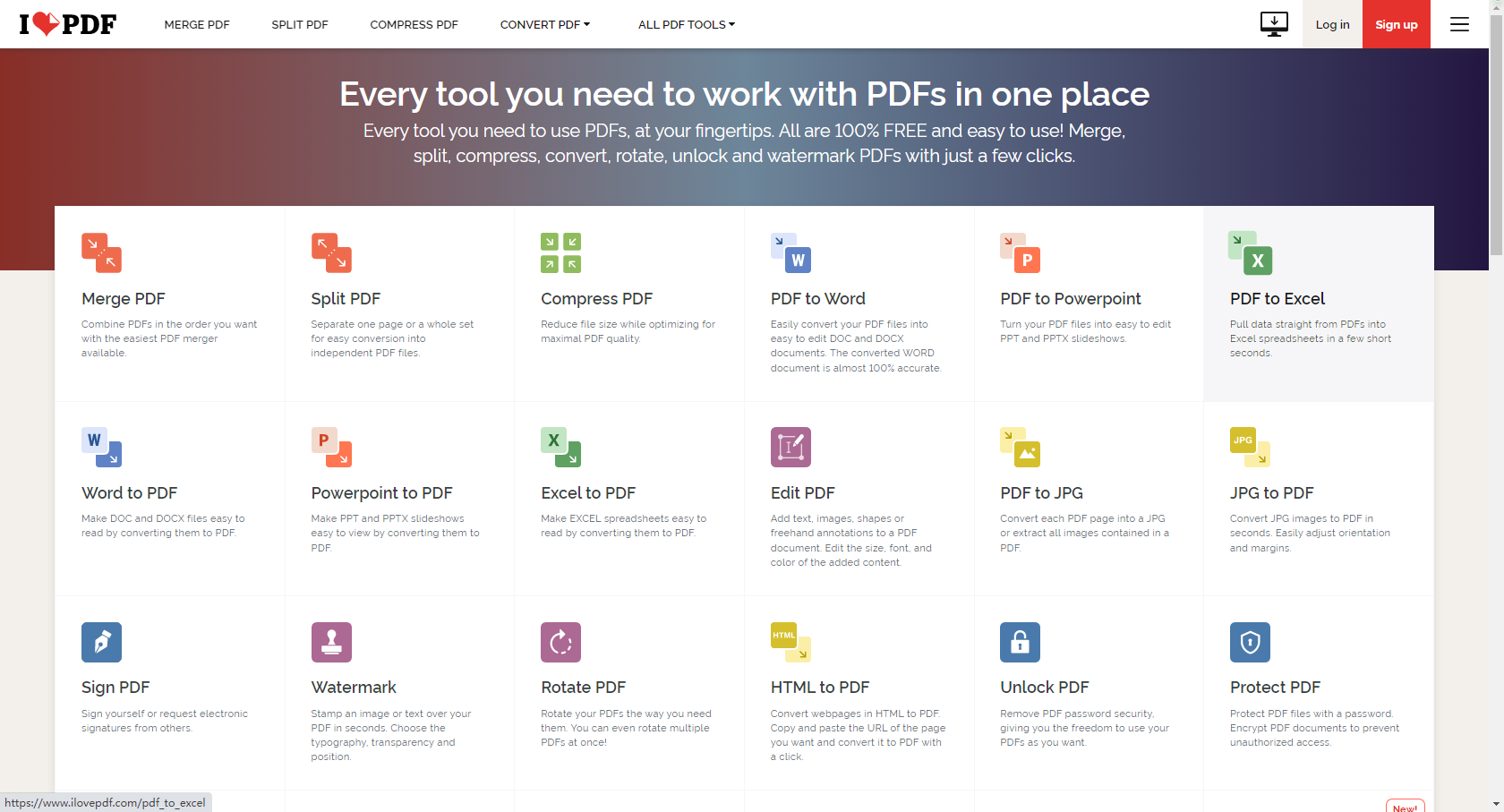 How to convert PNG to PDF with ONEPDF
ONEPDF is a totally free and secure PDF converter, with its comprehensive format conversion capabilities and simple and straightforward operation steps, ONEPDF has been widely lauded by people no matter PDF beginners or professionals.
Simple steps to convert PNG to PDF, just follow them and get your PDFs!
Click here to enter the website of ONEPDF
You can easily see the purple button labeled PNG to PDF, then click it.
Select or drop your PNG files into the drop zone.
Just wait for seconds and after that, your files will be downloaded automatically and you can check it at the bottom left corner of your screen.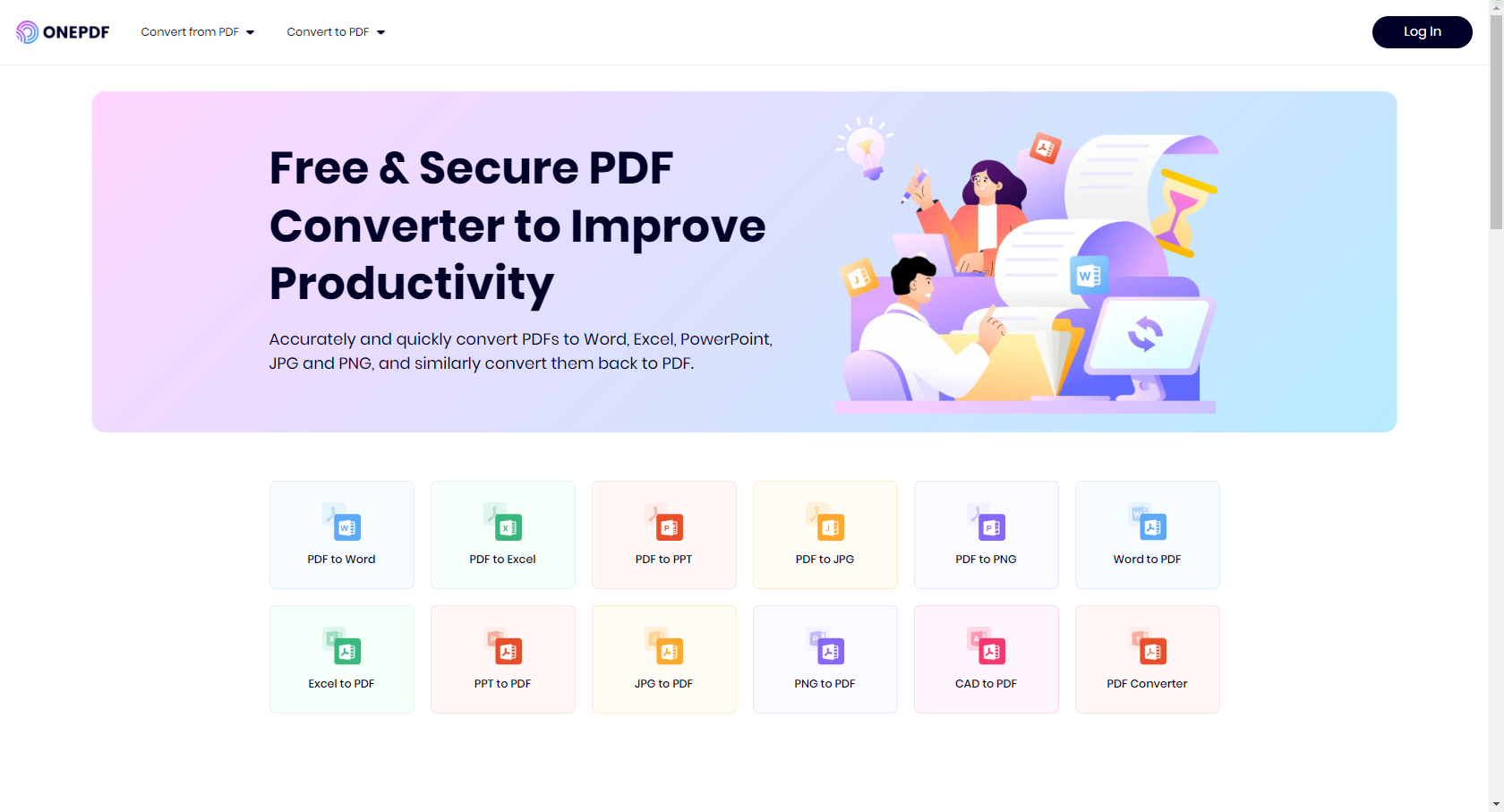 Pros and cons of these 3 tools
Adobe
Pros:
Years of experience in the field of PDF

Advanced and technology in dealing with PDF

A multitude of conversion tools
Cons:
Some professional features require to upgrade to PRO version

The subscription fee is high, USD$239.88/year
iLovePDF
Pros:
Meet the multiple and complex needs of many aspects

Fully functional, merging, splitting, compressing, and converting PDFs are all included

Up to 20 files uploaded at once
Cons:
limited document processing in the free edition

Features are a bit too redundant for people with simple needs
ONEPDF
Pros:
Foc

us on the conversion feature of PDF, convert PDF like a pro

Offer OCR freely, which is paid on other converters

All features are totally free to use
Cons:
Still in the version iterative update stage so there may be some minor updates needed
Different tools for different demands
As a matter of fact, there is no so-called best PDF tool, instead, the one that meets your demand well, is the most PDF tool for you.
To clear this, you should exactly know your demands, or in a word, what you want to do with a PDF tool.
If you're a veteran of using various features of PDF, maybe a simple and one-stop tool is not the perfect one, it's recommended to use Adobe as your help. However, if you seldom use PDF in your workplace, and maybe there're some files needed to be converted occasionally, then a free online tool like ONEPDF may be the right one which definitely can save you time and money.
How to convert PNG to PDF on Windows 10
If you're using Windows 10, you can print directly to a PDF printer to make your PNG files into PDFs.
Launch File Explorer and navigate to the location of the PNG file.
Then, select "Print" from the file's context menu.
When prompted, select Microsoft Print to PDF from the Print Pictures menu.
Select the number of copies or pages you wish to save, as well as the paper size, quality, and picture display settings you desire for the new PDF.
Hit the Print button.
Choose the destination folder in the Save Print Output As window.
Create a file name.
Just hit the "Save" button.
How to convert PNG to PDF on a Mac
If you're using a Mac, you may quickly and effortlessly convert a PNG to a PDF using the built-in Preview software. Files will open in this program unless you have specified a different program to do so. The whole procedure will take less than 1 minute.
Launch Preview and load the PNG image.
To create a PDF, go to File > Export.
Label the document.
Just hit the Save button.
In conclusion
Converting PNG to PDF is no longer troublesome for you, carefully read this article and go for the right tool that suits you best, and enjoy your PDF journey now!