Nowadays, document sharing is becoming more and more useful and increasingly common in both our work and life. And PDF has been gaining popularity due to its compatibility with all other document formats, regardless of the device it is opened on.
Therefore, converting Excel files (whether it's".xls" or ".xlsx" files) to PDF stands out to be a problem that people are mostly concerned about. In some instances, a large number of individuals may not know how to convert Excel to PDF or the available methods.
This article will tell you how to use different methods to convert Excel sheets to PDF files and explore the problems and solutions that may happen during your conversion process. Regardless of who you are, a businessman, student, or individual user, deeply learning the knowledge of Excel to PDF conversion will bring your work and life great convenience. Let's get the hang of it!
The intention of Excel and PDF Format File
Excel and PDF are both commonly used office file formats for different purposes.
Excel is a spreadsheet software developed by Microsoft at the beginning, used for organizing, analyzing, and storing a huge amount of data in tabular format. Often seen in various industries for tasks such as data entry, financial analysis, data visualization, and data storage for backup. Those Who have always dealt with office documents know that there are 2 kinds of file extensions as ".xls" and ".xlsx" for Excel files. And the latter can be opened in Microsoft Excel or other spreadsheet software.
PDF (Full spelling as Portable Document Format) is a file format developed by Adobe Systems for presenting documents, including text formatting and images, in a method independent of software. This makes PDF files can be easily shared and viewed on any device, without losing their original formatting or layout. ".pdf", known as the file extension of PDF, can be opened with Adobe Acrobat Reader or other PDF reader software. Always show its effect in some areas, especially for digital documents, such as reports, presentations, and manuals.
How to Convert Excel Spreadsheets into PDFs?
Method 1: Use the Built-in Features of Microsoft Excel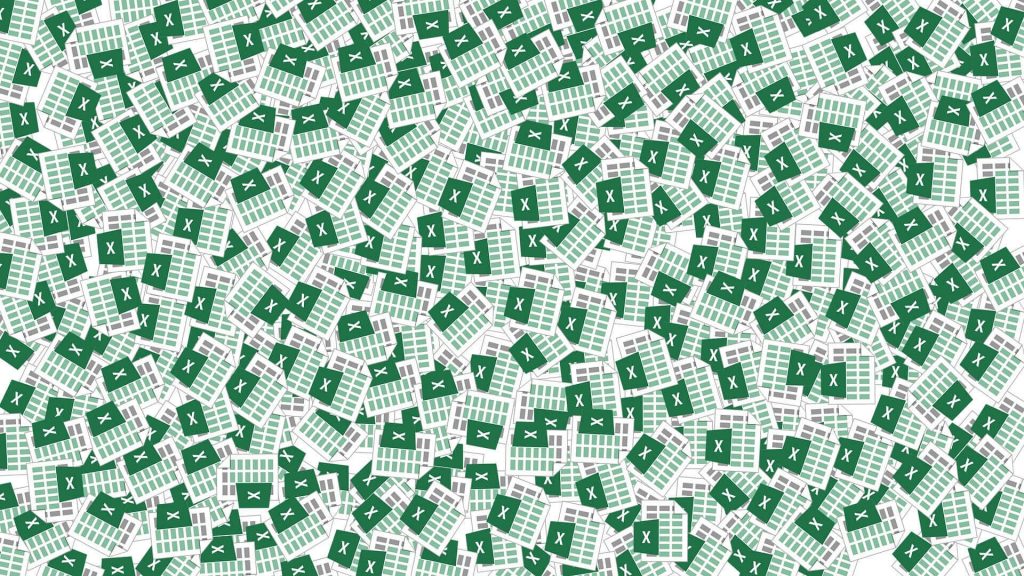 Microsoft developed Excel software. And its built-in feature can make the file be converted into a PDF version. See how to achieve it.
Here are the following steps for converting Excel to PDF with Microsoft Excel:
Open Microsoft Excel and pick the Excel document you want to convert.
Click on "Files" in the menu of the navigation bar, then choose "Save as".
In the "Save as" pop-up page, decide the folder where you want to store your PDF file and choose the "PDF" option from the "File type" in the drop-down menu.
(Optional) If you need to change the settings of the PDF file, click on the "Options" button to open the detail page, and edit your necessary changes.
Enter a name for your PDF file, and click "Save" to process converting the Excel file into PDF format.
After successfully saving, you can find the PDF file and open it for viewing and editing.
But as things usually do not go well all the way, there are some risks and trouble in using the built-in feature of Microsoft Excel to convert into PDFs, that is it may lead to a formatting mess because of the different software versions of Excel files. Besides, when converting Excel to PDF, you may encounter some format problems, so be sure to check the Excel file format and make proper adjustments before the PDF conversion.
Method 2: Use an Online Excel-to-PDF Conversion Tool
With the rapid development of technology and the common use of computers and smartphones, people rather use some online tools for helping solve this problem without downloading any apps that would waste time. Aim to improve productivity during dealing with numerous documents and better sharing and cooperation, the top online PDF converter is here to be referred to:
ONEPDF – The Best Online PDF Converter for Free
As the title you have seen, this tool is totally free for everyone, meaning that users can access each feature at any time on any device. Quite simple and convenient!
(Main features supported at present are shown in the picture)
As far as shown in the picture, there are versatile functions in Documents File Converting, mainly classified into 2 areas "to PDF" and "from PDF". And click the first box of "Excel to PDF" in the second line or open it through this link to get the Excel to PDF conversion solution.
You will see this page.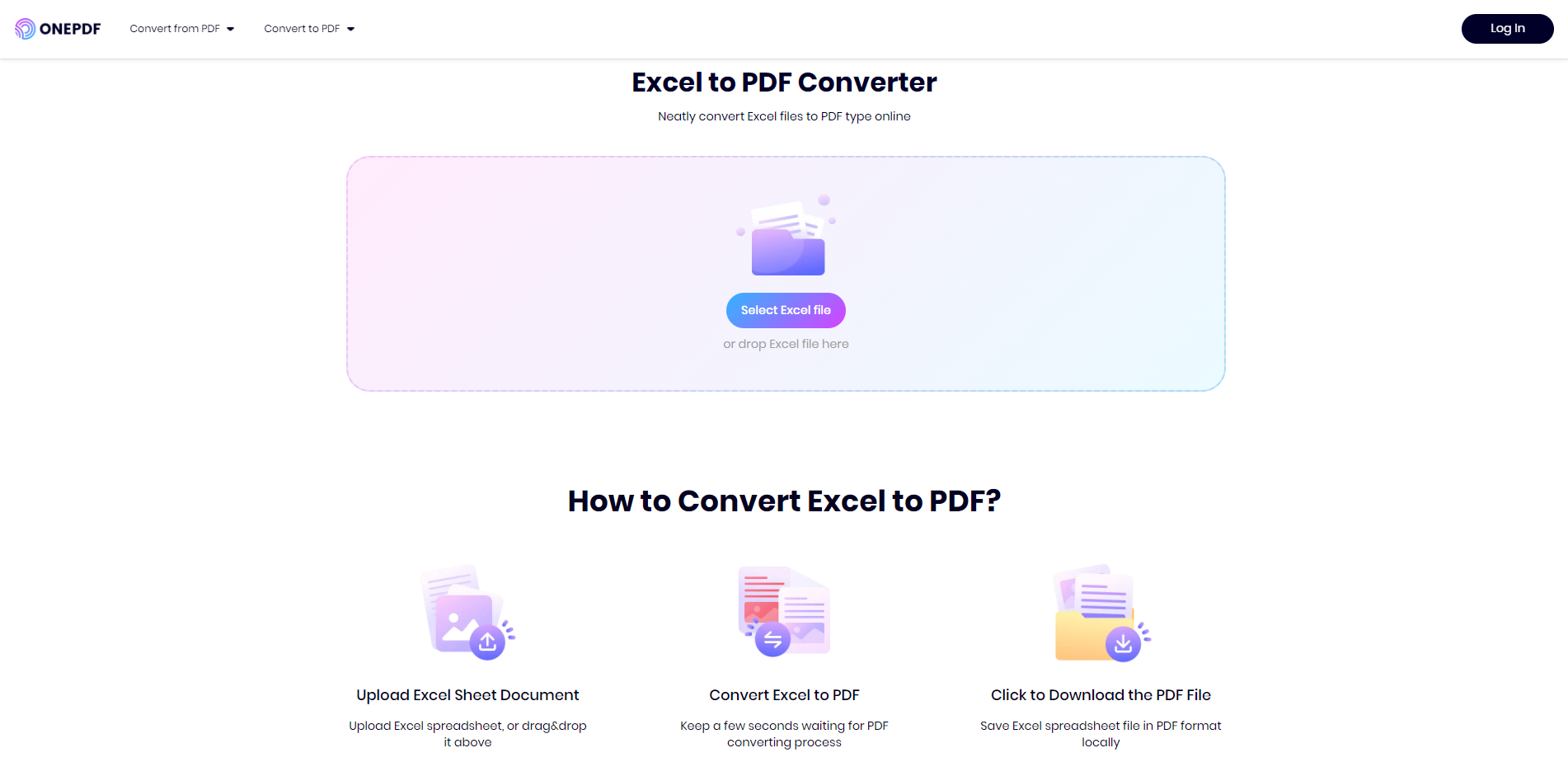 No need to pay extra fees, free to convert files into other types of files with only one click.
Follow the operations in 3 steps:
Upload Excel Sheet Document – Upload Excel spreadsheet, or drag & drop it above
Convert Excel to PDF – Keep a few seconds waiting for the PDF converting process
Click to Download the PDF File – Save the Excel spreadsheet file in PDF format locally
Benefits of Using Online PDF Conversion to Get PDF
Massive amounts of data in the spreadsheet make it difficult for multiple users to collaborate and cause visual dizziness. PDF conversion provides a solution for financial models and quarterly reports.
Use ONEPDF online PDF conversion tool, you can benefit from it in many aspects:
Ensure Consistency in File Formats
People who work for businesses or enterprises certainly face millions of documents every year, but how could they maintain good file management and backups when they can find out the specific one easily? Converting to PDF documents is always the first choice. Even if you upload a file with an extension named ".xls", ONEPDF can well process it out to be a PDF file that does not change any character of the originals. Best preserve the data won't be changed in counts, dates, or other vital elements, avoiding business financial loss.
PDF files can be encrypted and locked to protect sensitive information from unauthorized access. If you are an official staff from the State government or non-profit organizations, you may often deal with documents and reports like creating or sharing them. Those documents are common but not limited to the forms of policy papers, project reports, promotional materials, and more. Converting Excel files into PDFs can guarantee consistent document formatting and enhance the security and shareability of the document.
Though PDF files do not allow interaction and data analysis in Excel spreadsheets, it is still popular to be used in flexible sharing and displaying. For individuals, people under some circumstances may need to share necessary documents with others, such as family budgets, traveling plans, academic reports, and so on. PDF files are more portable in online sharing with less storage and are friendly to those who have a bad internet connection.
To Wrap It Up
Formatting problems always occur when one needs to share files with others, but using the tool to convert Excel to PDF can greatly reduce the problems and improve efficiency in a certain way.
Though 2 methods are recommended to help you with the conversion, we suggest more on trying the second way – ONEPDF, it is free and much more reliable than the Microsoft Excel software for the reason that the problem with different app version files would not affect the conversion result.
If you need to convert other file types, click here to have a try on the comprehensive feature page.