PDFs have become the go-to format for sharing documents thanks to their compatibility, security, and ability to maintain formatting across different devices. Converting your Microsoft Office files into PDFs has numerous benefits, and in this comprehensive guide, we will explore four fantastic methods to make the process a breeze. Our mission is to help you find the most suitable Office to PDF converter for your needs. Let's dive into the 'Fantastic Four' methods, ensuring a user-friendly and secure conversion experience.
The Top 5 Challenges Faced When Converting Office Files to PDFs
Formatting Inconsistencies:

One of the most common issues faced during Office-to-PDF conversions is the loss of original formatting. Fonts, images, tables, and other elements might appear misaligned or distorted in the converted PDF, making the document look unprofessional.

File Size Limitations:

Some conversion tools impose file size limits, which can be a significant challenge when working with large or complex documents. This constraint may require users to split their files into smaller parts, making the conversion process cumbersome.

Security and Privacy Concerns:

Users may worry about the security of their data, particularly when using online conversion tools. Sharing sensitive documents on third-party platforms can pose risks to data privacy, making it crucial to choose a trustworthy service with robust security measures.

Limited Conversion Features:

Basic conversion tools might not offer advanced features such as batch conversions, OCR capabilities, or options to customize the output PDF. The absence of these functionalities can make the conversion process time-consuming and frustrating for users who need to process multiple files or require specific output settings.

Software Compatibility and Accessibility:

Some conversion tools may not be compatible with all operating systems or devices, which can pose challenges for users working on different platforms. Additionally, users with disabilities may face accessibility issues when using certain conversion software, making it essential to choose a solution that caters to their needs.
Method 1: Using Microsoft Office's Built-In 'Save As' Feature
One of the easiest ways to convert MS Office files to PDFs is by using the built-in 'Save As' feature available in Office applications like Word, Excel, and PowerPoint. Follow these simple steps for a quick conversion:
Open your Office file in the relevant application.

Navigate to the 'File' menu located in the upper-left corner and choose 'Save As.'

Select the desired location to store your PDF.

In the 'Save as type' dropdown list, opt for 'PDF.'

Press 'Save' to finalize the conversion process.
This technique is user-friendly and doesn't necessitate any extra software or tools. Nevertheless, it might not provide advanced functionalities like batch processing or PDF editing options.
Method 2: Making Use of Online Conversion Services
Online conversion platforms offer a straightforward way to convert your Office files to PDFs. These websites usually provide free, user-friendly services without installing software. Here are the steps for using an online Office to PDF converter:
Visit a reputable online conversion website, such as ilovepdf.com.

Click 'Select Office files' or a similar button to upload your file.

The website will automatically convert your file to PDF.

Once the conversion is complete, download your PDF file.
Despite their convenience, online conversion tools may raise security and privacy concerns as your files are uploaded to a third-party server. It is essential to choose a trusted platform with robust privacy policies.
Method 3: Employing Adobe Acrobat Pro
Adobe Acrobat Pro is a robust, feature-packed software capable of converting Office files to PDFs and offering extra capabilities like editing, security settings, and more. To employ Adobe Acrobat Pro for your conversion needs, follow these steps:
Install and launch Adobe Acrobat Pro.

Select 'File,' then 'Create,' and choose 'PDF from File.'

Pick your Office file and click 'Open.'

Acrobat will automatically transform your file into a PDF.

Save your PDF and apply any preferred extra features.
While Adobe Acrobat Pro offers a complete solution, it comes with a subscription cost, which may not be the best fit for infrequent users.
Method 4: Leveraging Third-Party Software Solutions
Various third-party software options can convert MS Office to PDF with added functionalities. One solution is ONEPDF, which offers an intuitive interface and powerful conversion features. Here is an outline of the steps involved in using ONEPDF:
Download and install ONEPDF.

Get started by launching the software and importing your Office document.

Select the output format as PDF and choose any additional settings as needed

Click 'Convert' and save your PDF file.
ONEPDF can be an excellent alternative; as a reputable product, it can easily meet your needs and budget.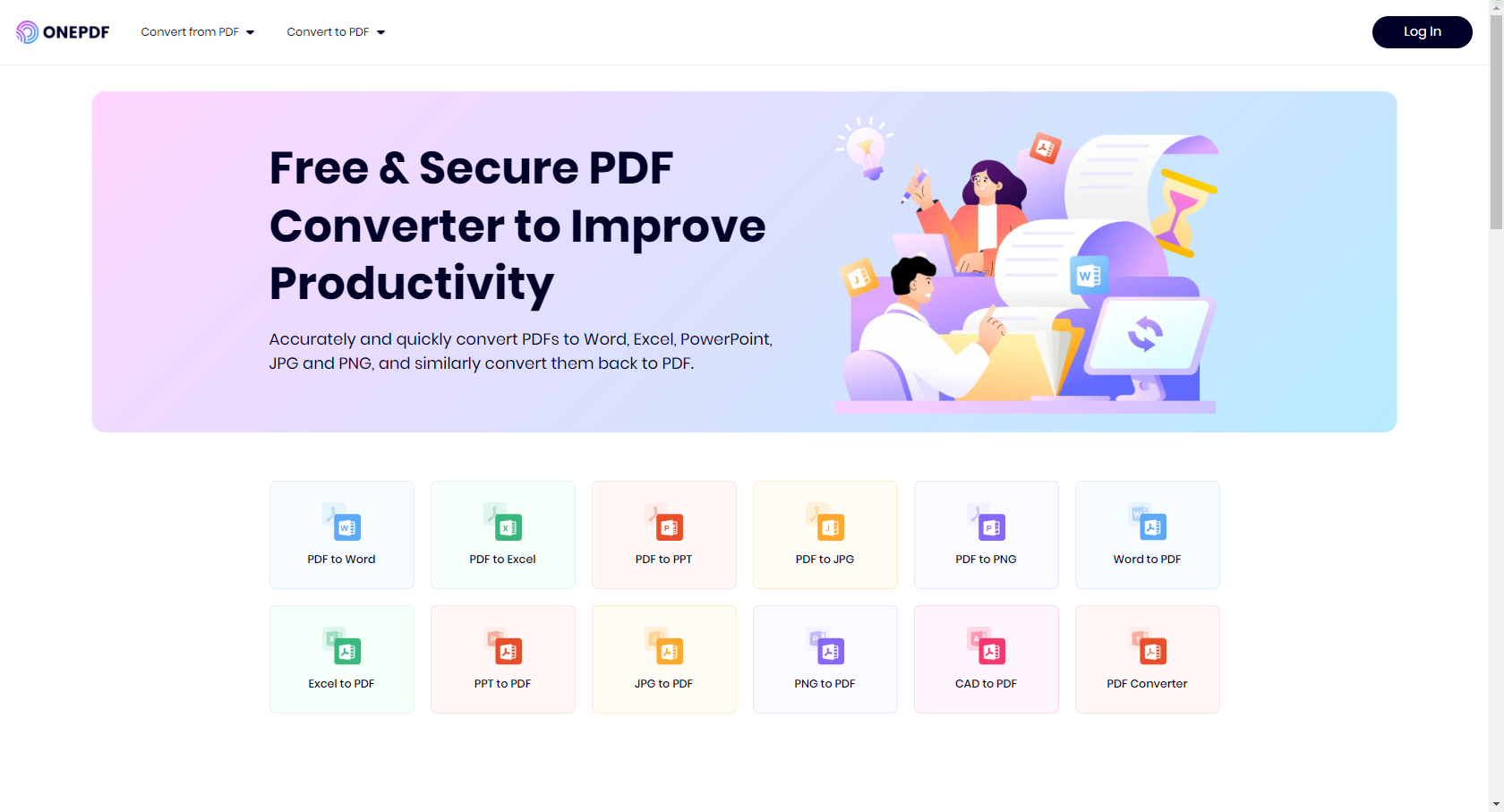 Comparing the Fantastic Four Methods
When selecting the right method for converting Office files to PDFs, consider factors like speed, quality, security, ease of use, and cost. The built-in 'Save As' feature and online conversion tools are typically the most straightforward options for occasional users. However, they may lack advanced features and customization options. Adobe Acrobat Pro and third-party software solutions like ONEPDF offer more comprehensive solutions but may be costly.
To help you decide, let's recap the main characteristics of each method:
Microsoft Office's Built-In 'Save As' Feature:
Pros:

Convenient, no additional software required

Cons:

Limited features, no batch conversion capabilities
Online Conversion Tools:
Pros:

No cost, easy to use, no need to install software

Cons:

Potential security and privacy issues, limited functionality
Pros:

Extensive features, top-notch conversions, secure

Cons:

Subscription fee may be overwhelming for occasional users
Pros:

Additional features and customization options, potentially more cost-effective

Cons:

Requires installation, quality, and security depending on the chosen format
Conclusion
We've explored four fantastic methods for easily converting Office files to PDFs. Each method has advantages and drawbacks; your choice will depend on your specific requirements and preferences. By considering factors like speed, quality, security, and cost, you can confidently select the most suitable Office to PDF converter for your needs.
Whether you choose the built-in 'Save As' feature, an online conversion tool, Adobe Acrobat Pro, or a third-party software solution like ONEPDF, remember to prioritize security and ease of use. Armed with this knowledge, you are now ready to convert your Office files to PDFs and enjoy all the benefits of the PDF format.
Experience the Power of ONEPDF: Unleash Effortless Document Conversion with ONEPDF
Introducing ONEPDF, the ultimate all-in-one solution for all your document conversion needs. ONEPDF not only accurately and swiftly converts your PDFs to Word, Excel, PowerPoint, JPG, and PNG formats but also seamlessly transforms these formats into PDFs. Say goodbye to compatibility issues, formatting errors, and time-consuming conversions – ONEPDF makes sharing, editing, and collaborating on documents across various platforms effortless. Experience the power of ONEPDF, and revolutionize how you handle your files, making your work life simpler and more productive. Try ONEPDF today and witness the magic of seamless document conversion at your fingertips!