As an office worker or student, you may constantly encounter the situation of converting JPG images to PDF, which is easy to distribute and send to others, then you will need a JPG to PDF converter. I'm sure that no one wants this process to take them an hour or two, so the best scenario is to pick up the tool that you decide to use, convert JPG to PDF easily, and lastly finish the whole conversion process. The entire process may only take you a few minutes or even seconds.
Nowadays, whether it is a thin and convenient online tool or a jpg-to-pdf converter that needs downloading, it's easy for you to convert your JPG images into PDF files. In this article, we've listed the 4 best jpg to pdf converters in 2023 for you. Whether the free-to-use one, online one, or one that converts multiple JPG images to PDF, all has been covered. Let's dive into it!
Convert JPG to PDF—with Adobe
There is no doubt that an article related to PDF but missing to mention Adobe is not a reliable one.
Adobe enables you to convert JPGs to PDF files online in easy 4 steps.
Firstly, click the 'Select a file' button above or drag and drop an image file into the drop zone.

Then select the image file you want to convert to PDF. (You can select more than JPG, but also PNG, BMP, and more)

After uploading, Acrobat automatically converts the file from the image format to PDF.

Lastly, download your new PDF file or sign in to share it.
Tip: Actually, thanks to the powerful image processing capabilities of Adobe, after using this free online converter, you can do more free operations, including editing, compressing, merging and managing PDFs. The most important part is that all these features are free to use without downloading software.
JPG to PDF Converter—Smallpdf
Smallpdf is also a time-saving tool that converts JPG to PDF via a quick drag and drop. You can get your converted PDF in 4 steps. Just peep the instruction below.
Open up the

images converter

on the website of Smallpdf.

Next, drag and drop or manually upload any JPG file into the drop zone.

Adjust the orientation, margin, and letter size according to your liking or demands.

After all the procedures are done, just click 'Create PDF Now.'

All done, download your new PDF document.
Convert Multiple JPGs to PDF with Smallpdf
If you need to convert multiple JPGs to PDFs, it's also a simple operation to be finished by Smallpdf. You can upload several JPGs, and the JPG to PDF converter will combine every uploaded image into one PDF file. And your images' color scheme and original formatting will be retained.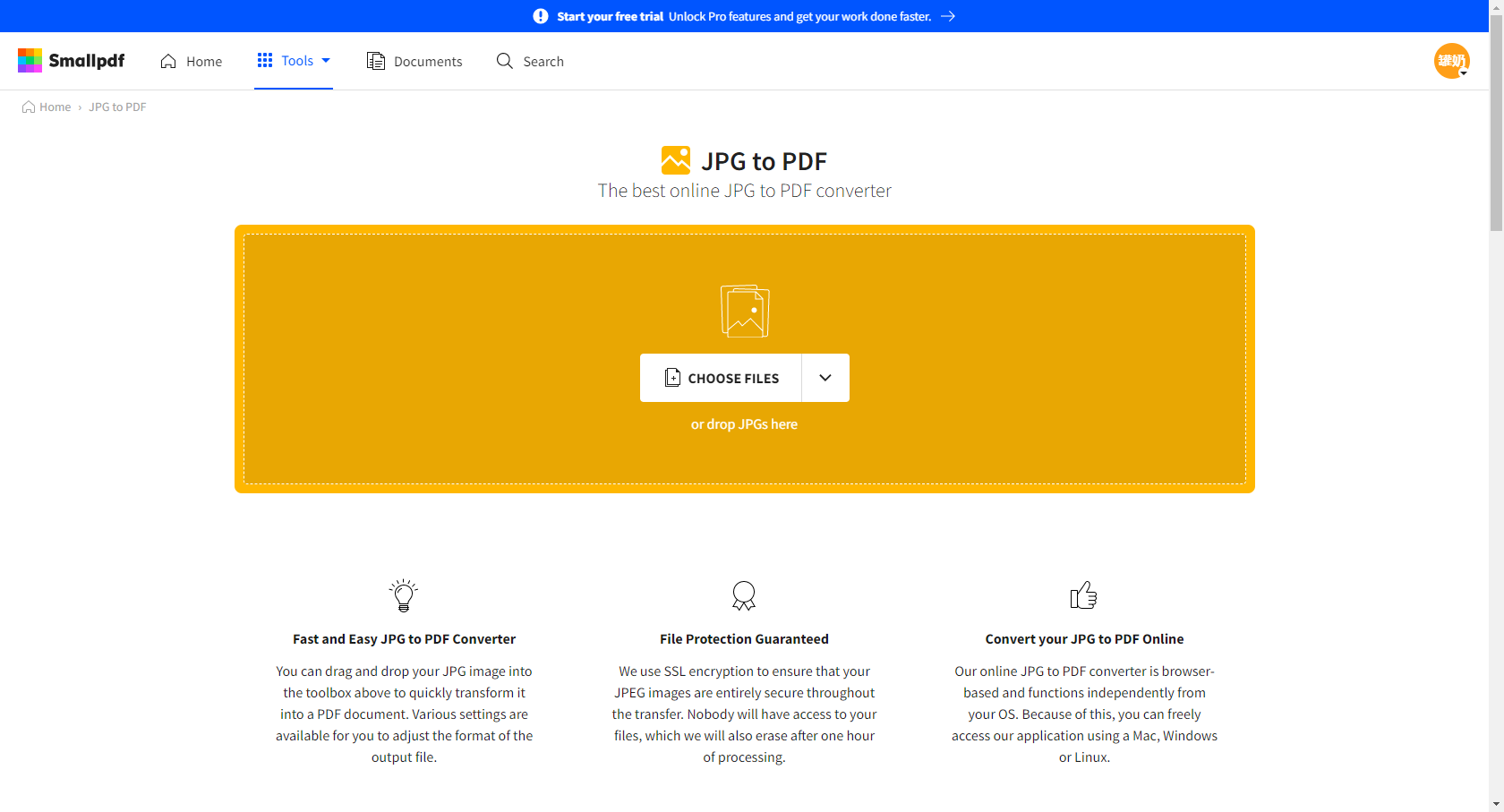 Free Online JPG to PDF Converter—ONEPDF
If you are new to PDF, you may not use PDF converters as many times as professionals. So it's understandable that you wish to have an online JPG to PDF converter for free. ONEPDF is just the converter that you're looking for. Without downloading software, totally free to use, and convert PDFs in high quality.
Here's the step-by-step instruction to convert JPG to PDF
Firstly, enter the website of this converter and choose the 'JPG to PDF' button.

Select or drop your JPG files into the drop zone and then click 'Convert to PDF'

Wait for seconds and do not close your browser.

After the process is over, your PDF file would have automatically downloaded.
Except convert JPG to PDF, ONEPDF has also more features that are all free to use, including converting PDF to Word, Excel, PPT, PNG, etc, and converting them back to PDF.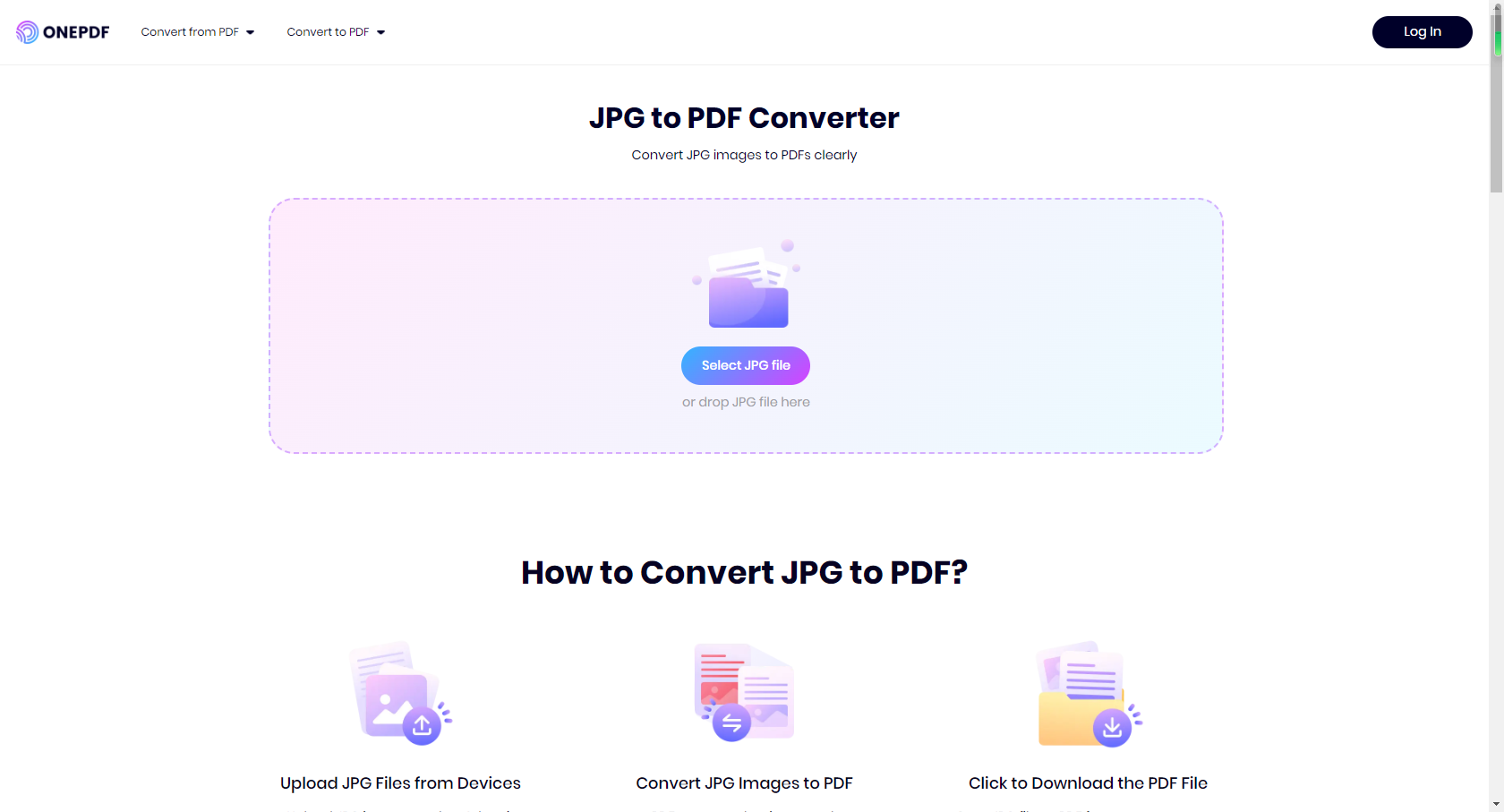 Convert JPG to PDF—with iLovePDF
With over 300 million people across the globe, iLovePDF is also a good PDF helper recognized and applauded by beginners and professionals. iLovePDF allows you to adjust the orientation and more of the images you uploaded. The specific steps to convert JPG to PDF are as follow:
Click here

and enter the page of JPG to PDF converter

Select or drop JPG images.

Select the page orientation, size, and margin according to your demands.

Click the 'Convert to PDF' button and your JPG will download automatically.
Tip: If you do not uncheck it, by default, its set is to merge all images in one PDF file.
Convert JPG to PDF on Mac
When it comes to converting jpg to pdf on Mac, there are many ways and tools for you to choose from, such as Adobe, Wondershare, and so on. Today we will take Adobe as an example. The entire steps are simple, so follow them if needed.
Open the Preview app.

This is the supplied image and PDF viewer on a Mac. Find and open the relevant JPG file.

Choose File > Export.
Click the Format pop-up.

Choose PDF as the file type. Here you can apply a Quartz filter or encrypt it, so only those with a password have access.

Rename and save.

Change the name and/or select a different location to save your new PDF.
No need to be worried, I believe after reading this article, you must have obtained the newest information about the 4 best JPG to PDF converters. So click on the official website of the tool that suits you most when you're in need, explore it, and have a nice PDF journey!